How to Add People to Your Contacts in Windows Vista
How to Add People to Your Contacts in Windows Vista
You can keep track of people you know by adding them to your Windows Contacts in Windows Vista. You can enter whatever information you know about them, such as e-mail address, mailing address, phone number, and so on, so that you can readily access that info through Windows Contacts. To add contacts to your Windows Vista Contacts list, follow these easy steps.
1

Choose Start.

Go to All Programs→Windows Contacts.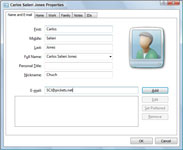 3

Enter information in various fields, clicking other various tabs to add more details.

In the Properties dialog box, you must enter information and then click the Add button to add it to a list. The IDs tab of the Contacts Properties dialog box allows you to associate digital IDs with e-mail addresses. A digital ID proves your identity to recipients of your e-mail, and you can use them to encrypt your message as well.
4

Click OK.

When you're finished entering the contact info, clicking OK adds the contact to your Windows Contacts.