How to Add Gadgets to the Sidebar in Windows Vista
How to Add Gadgets to the Sidebar in Windows Vista
You can customize your Windows Vista desktop by adding gadgets to the Sidebar, such as news feeds, clocks, weather, and so on. Adding gadgets to your Vista Sidebar allows you to check out information quickly and access tools you use often. You can even add multiple instances of the same gadget on your Sidebar so you can keep track of two different time zones or view multiple months from a calendar.
1

Click the Gadgets symbol.

The Gadgets symbol is a plus sign at the top of the Sidebar, which opens the Gadget Gallery.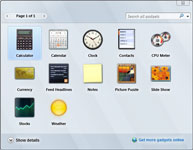 2

Double-click a gadget (or click and drag it to the Sidebar).

In the resulting Add Gadgets dialog box you can find the gadgets to double click, or you can click and drag any gadget to the Sidebar. If you want to view additional gadgets, click the arrows on the Page # of # item in the top left corner of the dialog box.
3

Click the Close button to close the dialog box.

Gadgets included in Windows Vista may change; if any gadgets that you want don't appear, click the Get More Gadgets Online link to find and install them.