Searching with Google in Windows 8.1 Desktop Version of Internet Explorer
Searching with Google in Windows 8.1 Desktop Version of Internet Explorer
Internet Explorer ships with Microsoft's Bing as its default search engine. If you want to change to Google in the Windows 8.1 desktop version of IE, it's remarkably difficult.
Unless Microsoft changes IE 11 (or a judge forces the company to change, to provide better access to alternative search engines), here's the official way to move from Bing to Google in IE:
1

Start the desktop version of IE.

Again, it doesn't look like you can do this from the tiled version of IE.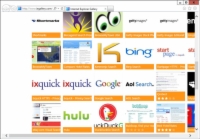 2

Click the down arrow next to the magnifying glass, up in the address bar, and in the lower-right corner, choose Add.

IE takes you to the Internet Explorer Gallery with Search Providers selected.
3

Look. When you find the Google search logo, click it.

IE brings up the Internet Explorer Gallery highlighting Google Search.
5

Check the box marked Make This My Default Search Provider and Use Search Suggestions from this Provider. Then click Add.

IE doesn't say a thing, but it changes your default search provider to Google. How can you tell without running a search? Click the down arrow next to the magnifying glass icon again, and at the bottom, the tiny Google icon appears to the left of the Bing icon. That's how you know Google's the default search engine.

From that point on, you can type your search terms in the address bar and press Enter, or tap or click the magnifying glass icon, and IE sends the search terms to Google.