How to Use the Windows 8.1 Metro Photos App
How to Use the Windows 8.1 Metro Photos App
You can share a photo through e-mail by using the Windows 8.1 Metro Photos app. As usual, you start on the the Start screen (press the Windows key on the keyboard or the Windows button on your tablet).
Here's how to share a photo in an e-mail:
1

Tap or click the Photos app on the Start screen.

The Windows 8.1 Metro Photos app appears.
2

Select one of your photos.

If you want to see the whole sequence go by in slow motion, choose a high-definition photo — a large file.

You need to tap or click the photo. It appears in the middle of the screen.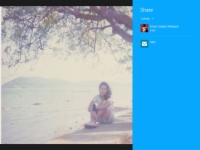 3

Swipe from the right or hover your mouse in the upper-right corner to bring up the Charms bar and then choose the Share charm, which is the second charm.

Windows gives you a choice of all the tiled apps that can accept data from the Photos app. In this case, only Mail can accept a shared picture from Photos.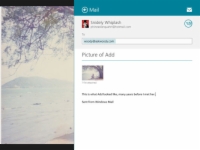 4

Choose the Mail app.

Mail starts a new e-mail message and copies a thumbnail of the picture into the message.
5

Fill in the message and tap or click the Send button on the upper-right.

Make sure you get a To address and add a subject if you like. The usual e-mail stuff.

After Mail starts to send the message, you return to the Photos app.

If you chose a small photo, it's probably sent in seconds. But if you sent a large photo, you may want to make sure it goes out.
6

To check, go back to the Charms bar and choose Share again. Tap or click the Check Progress link at the bottom.

The Charms bar shows you the status of the message while Mail puts it together and then ships it out.