How to Show All Apps on the Windows 8.1 Start Screen
How to Show All Apps on the Windows 8.1 Start Screen
Windows 8.1 introduces the ability to show all of your apps in one massive blob on the Start screen. It also has a couple of tricks for organizing the list of All Apps. Here's how to approach it: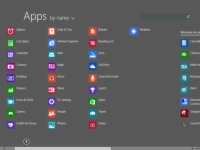 1

On the Metro Start screen, click or tap the funny down-arrow floating in the lower-left corner of the screen.

You may have to wave your mouse around the lower-left corner before the down-arrow appears.

Windows shows you a complete list of all of the programs (er, apps) on your computer, organized in alphabetical order, grouped according to the general category of app. Apps with tiles on the Metro Start screen come first.
2

Click or tap the down-arrow next to By Name at the top and choose By Category.

You see the same apps, but this time they're grouped in a truly inscrutable hodge-podge.

3

Pick one of the apps and either tap and slide it downward or right-click it.

You see the App Bar options shown.
4

If you want to put this particular program on your Metro Start screen, choose Pin to Start. If you want it to appear on the old-fashioned desktop's Taskbar, choose Pin to Taskbar.

There's no OK to click; the action takes place immediately.

Tiles that are pinned to the Metro Start screen appear on the far-right side of the screen. From there, you can click and drag them anywhere you like.

When you install a program in Windows 8.1, the installer sticks tiles for the program on this All Apps screen. For example, if you install Office 2010, the installer puts a new category on the All Apps screen called Microsoft Office, and sticks dozens of tiles (most of them useless) under that category.

It's up to you to go into the All Apps list, select the tiles that you want to appear on the Start screen and, for each, choose Pin to Start.

You're supposed to be smart enough to know that you have to manually stick each tile that you want on the Metro Start screen.