How to Connect Your Windows 8 Tablet to Networked PCs
How to Connect Your Windows 8 Tablet to Networked PCs
Windows 8 tablets come with tiny hard drives, at least by desktop PC standards. Since you probably can't fit all of your information onto your tablet, keep an eye out for other places to stash files, perhaps storing a few videos here, and a few CDs there.
One of the easiest places to stash your files may be on your home or office network. To browse the files on those huge hard-drive-stuffed PCs, you need to connect to the same wireless network that connects them.
To connect to PCs on a home or office network, you first connect to their wireless network. Be sure to tap the button Yes, Turn on Sharing and Connect to Devices.
But what if you forgot to tap that Sharing and Connect button?
You can turn it on by following these steps. These steps also let you connect to a homegroup — a simple way for Windows 7 and Windows 8 computers to share files.
1

Summon the Charms bar by sliding your finger in from your tablet's right edge.

Then tap the Settings icon.
2

Tap your wireless network icon.

When the Network pane appears, listing your connected wireless network, hold your finger on the network's name until a circle appears; then lift your finger.

Holding your finger on an item until a menu appears is the equivalent of right-clicking with a mouse. In this case, the right-click menu appears.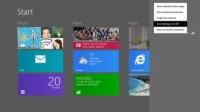 3

Tap Turn Sharing On or Off.

The permission screen presents itself again. That right-click menu offers other handy options.
4

Tap the button, Yes, Turn on Sharing and Connect to Devices button.

Now that you've turned on sharing, join your network's homegroup, if you have one.
5

Tap the Start screen's Desktop app; then tap the File Explorer icon.

You'll find the icon for File Explorer near the left end of the taskbar — the strip along the bottom of the desktop.
6

When File Explorer appears, tap the word Homegroup from the Navigation pane that clings to every folder's left edge.

The Homegroup window appears.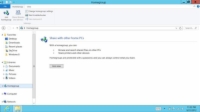 7

Tap the Join Now button and follow the steps to enter the homegroup's password.

Don't know the homegroup's password? To find it, visit any computer on the homegroup, open any folder, and right-click the word Homegroup from the Navigation pane. When the pop-up menu appears, choose View the Homegroup Password, which is the password you need to enter into your tablet.