How to Access the Windows 8.1 Tiled Metro SkyDrive
How to Access the Windows 8.1 Tiled Metro SkyDrive
Microsoft's tiled Metro SkyDrive app in Windows 8.1 leaves much to be desired, but it's not a bad place to get your feet wet. Follow these steps to access SkyDrive via the tiled SkyDrive app:
1

On the Metro Start screen, tap or click the SkyDrive tile.

The tile is blue with billowy white clouds.

If you haven't already logged on with a Microsoft account — either your Windows login ID is a Microsoft account, or you logged on to one of the other tiled apps with a Microsoft account — Windows asks you to sign in with a Microsoft account.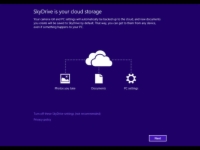 2

If you aren't logged in automatically, log in using your Microsoft account.

Microsoft account is the price of admission for SkyDrive. So no Microsoft account, no SkyDrive. Makes sense, actually.

If you've never used SkyDrive, the Metro SkyDrive app shows you the screen shown.

Microsoft is telling you that, if you start using SkyDrive, your Documents Library will be modified so the default Documents folder in the Library isn't your computers Documents folder. It'll become your SkyDrive Documents folder. The part about "new documents you create" is completely bogus — Microsoft only has control over new documents that you create using Microsoft products; the admonishment really only applies to Office documents.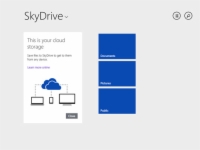 3

Click Next.

SkyDrive gurgles and burps and pulls down the SkyDrive app from the Windows Store. It takes a while because the installer is not only installing the guts behind the SkyDrive Metro tile, it's also making changes to your old-fashioned desktop's File Explorer, and adding some "glue" programs to both sides.

When the installer comes up for air, you're presented with the wholly uninspiring picture.

The three folders — Documents, Pictures, and Public — in your online SkyDrive folder appear by default. Those are the three folders that Microsoft sets up for you in the cloud. From the screen shown, you can add a file to any of the folders, and after you've added files, you can delete files or download any of them to your computer.

If you put a file in the Documents or Pictures folders, only you have access (unless you change permissions). However, anyone can see files you add to your Public folder.
4

Click Close.

Close is on the left side of the screen, under This is Your Cloud Storage.