How to Remove a Gadget in Windows 7
How to Remove a Gadget in Windows 7
As you try different gadgets on your Windows 7 desktop, you'll surely load some gadgets only to find that they aren't as useful (or as cool) as you thought. When this happens, you can easily remove the offending gadget from the desktop or from your computer entirely.
Gadgets are mini-applications (applets) for the Windows 7 desktop that give you access to frequently changing information, such as the current time, weather, stock quotes, news feeds, computer usage, and the like.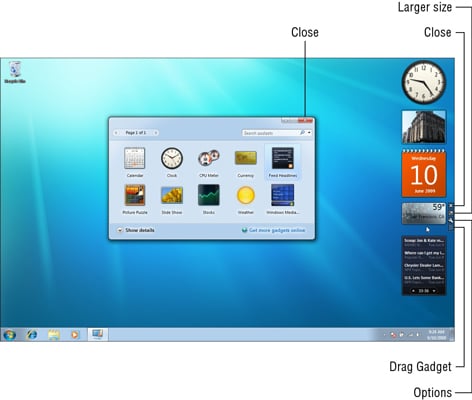 A sampling of desktop gadgets and the Gadget Gallery window.
Removing a gadget from the desktop is simple. Just position the mouse pointer in the upper-right corner of the gadget you want to remove and then click the X that appears.
Removing a gadget from the desktop doesn't delete it from your computer. So, if you're removing a gadget because you think it might be a security problem, you'll want to go the extra step and remove the actual gadget program from the computer.
To completely remove a gadget program from your computer, open the Gadgets Gallery window by right-clicking the desktop and choose Gadgets. Then, right-click the gadget's thumbnail, and then choose Uninstall from the shortcut menu.