How to Change Your Computer's Theme in Windows 10
How to Change Your Computer's Theme in Windows 10
Themes are simply collections of settings to spruce up your computer's appearance: In Windows 10, you can save your favorite screen saver and desktop background as a theme, for example. Then, by switching between themes, you can change your computer's clothes more quickly.
To try one of the built-in themes in Windows, click the Start button, type Change The Theme into the Search box, and press Enter.
The Control Panel opens to display themes bundled with Windows 10, as shown. Click any theme, and Windows tries it on immediately.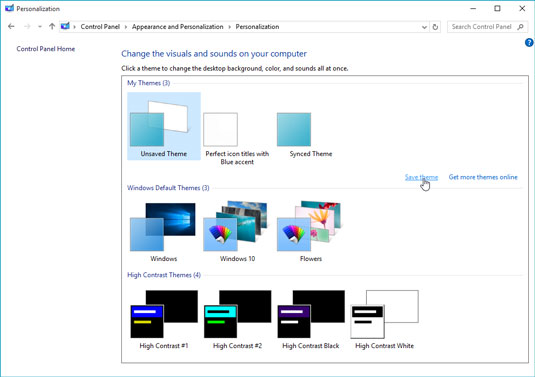 Choose a preconfigured theme to change how Windows looks and sounds.
The window offers these themes, with options listed along the window's bottom.
My Themes: Themes you've personally created appear here. If you have a Microsoft account, you see a Synced Theme, which is the theme you see on every PC you log in to with that account.

Windows Default Themes: This category includes the bundled themes in Windows, including its original one, called simply Windows.

Basic and High Contrast Themes: This features high-contrast themes for the visually impaired.
Instead of choosing from the built-in themes, feel free to make your own by clicking the words Save Theme for saving your currently assigned Desktop Background, Window Color, Sounds, and Screen Saver. Type a name for your theme, and it will appear as a choice in this section.