How to Access OneDrive from Anywhere
How to Access OneDrive from Anywhere
Sometimes you may need to access OneDrive, which comes with Windows 10, when you're not sitting in front of your computer. Or, you may need to reach a OneDrive file that's not synced on your PC. To help you in either situation, Microsoft offers OneDrive access from any Internet browser.
When you need your files, drop by any computer, visit the OneDrive website, and, if asked, sign in with your Microsoft account name and password. The OneDrive website appears, shown here.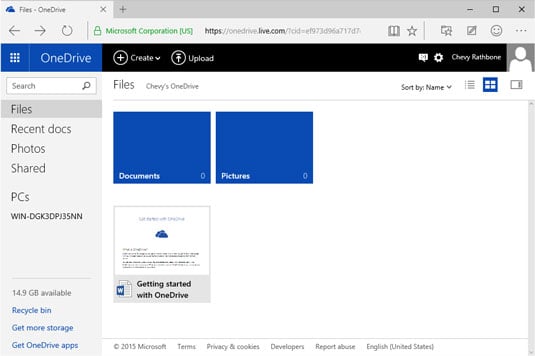 You can access your OneDrive files from any computer or device with a web browser.
After you sign into the OneDrive website, you can add, delete, move, and rename files, as well as create folders and move files between folders. You can even edit some files directly online. (OneDrive even contains a Recycle Bin for retrieving mistakenly deleted files.)
It's much easier to manage your files directly from the folder on your computer. But if you're away from your computer, the OneDrive website provides a handy fallback zone.
Also, the OneDrive website provides something your OneDrive folder doesn't: It lets you share files by e-mailing people links to them, making it a handy way to share folders.
If you find yourself using OneDrive regularly, take note that Microsoft offers free OneDrive apps for Apple, Android, and Windows smartphones and tablets. OneDrive simplifies file sharing among all of your gadgets.