How to Create Profiles with Lion Server's Profile Manager
How to Create Profiles with Lion Server's Profile Manager
You can access the Lion Server Profile Manager web app from a web browser by using a URL in this form: http://server.example.com/profilemanager. Or, in the Server app's Profile Manager pane, click the arrow next to Open Profile Manager in the lower right. Your web browser launches and asks you to log in.
The Profile Manager web app opens. It displays the configuration profile created by the Server app, which applies to everyone, and lists the services that have settings in the profile. You can now create a profile for a subset of users that configures more items. Follow these steps: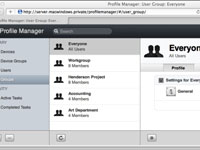 1

Select a user or group from the left two columns.

If you've added devices or created groups of devices, you can select them as well.
2

Under the Group name on the right side of the window, click the Edit button.

The Settings page appears.
3

Select a setting type from the scrolling list on the left.

It's organized into three areas: Mac OS X and iOS, iOS only, and Mac OS X only.
4

Select an item and click the Configure button.

The configuration window opens.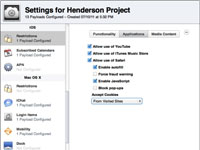 5

Select settings options in the configuration window.

Here you can set options for your Mac OS X clients, as well as your iOS clients.
6

When you're finished with the settings in the window, click another item in the list on the left.

If you don't want to use anything in this settings window, don't click the Cancel button. Clicking Cancel will undo all the settings you've made during the current session. Instead, use the Delete (–) button.