How to Write Music Reviews and Create iMixes on iTunes
How to Write Music Reviews and Create iMixes on iTunes
In Apple iTunes, everybody can be a music critic, so feel free to contribute your own reviews of songs or albums. In fact, on iTunes, you can go a lot further than being a critic. You can compile a list of songs for people with similar tastes. Throughout the Music Store, you'll see top-rated iMixes, which are playlists created by ordinary music fans like you.
1

In the source list, click the little arrow to the right of a selected playlist.

If no arrow appears, select the Show Links to Music Store option, which is on the General tab in iTunes Preferences.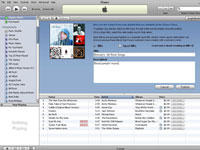 2

Click Create iMix. Enter a title and a description and then click Publish.

You might use a title such as Ed's Sappy Love Songs and a description such as Great sentimental music to share with a bottle of a wine and a special friend. Apple won't let you use profanity.