How to Set Up MobileMe on Your Mac
How to Set Up MobileMe on Your Mac
If you've already set up an iPhone or iPod Touch to work with MobileMe on your Mac, you're ahead of the game. If this is the first time you're setting up a Mac with a MobileMe account, follow these instructions:
1

In System Preferences, select MobileMe.

Don't panic if you see .Mac instead of MobileMe in System Preferences. Just click .Mac and follow the on-screen instructions. You'll end up in the right place.
2

Click the Sync tab and then click Synchronize with MobileMe (which may appear as Sync with MobileMe). Choose a Sync Interval in the pop-up that appears.

Apple recommends that you sync Automatically, but you can sync hourly, daily, weekly, or manually instead.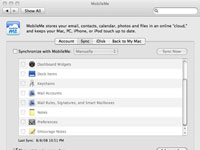 3

Click the boxes to select the items you want to sync, such as Contacts, Calendars, and Bookmarks.

Among your additional choices (shown in the figure) are Dashboard Widgets, Dock Items, Keychains, Mail Accounts, Mail Rules, Smart Mailboxes, and Preferences.

If all went according to plan, your Contacts and Calendars will turn up at me.com. It's not a bad idea to log on to make sure.

You'll need to be using the latest version of Tiger or Leopard on your computer to have access to MobileMe from a Mac.

Syncing in MobileMe is different than using iSync, OS X's own synchronization application that helps you manage contact and calendar info on connected devices such as a wireless Bluetooth cell phone, a Palm handheld, or an iPod. Use iSync to synchronize files if you have a version of OS X earlier than 10.4.