How to Rip Audio Files with Mac OS X Snow Leopard
How to Rip Audio Files with Mac OS X Snow Leopard
You don't have to rely on Internet downloads to get audio files. Mac OS X Snow Leopard lets you create your own MP3, AAC, Apple Lossless, AIFF, and WAV files from your audio CDs with iTunes. The process of converting audio files to different formats is called ripping.
Different hardware and software resources each have their own unique format preferences. For example, most iPod owners prefer MP3 or AAC files, but your audio CDs aren't in that format. Being able to convert files from one format to another is like having a personal translator in the digital world. You don't need to worry if you have the wrong format: You can simply convert it to the format that you need.
The most common type of ripping is to convert CD audio to MP3 (or AAC) format. To rip MP3s from an audio CD, follow these simple steps: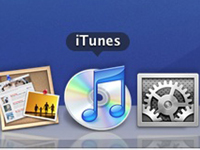 1

Launch iTunes by clicking its icon in the Dock.

Alternatively, you can locate it in your Applications folder.
3

Click the General toolbar button, and then click the Import Settings button.

The Import Using pop-up menu appears.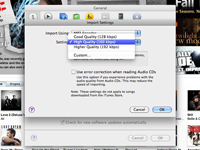 5

Choose High Quality (160 Kbps) from the Setting pop-up menu and then click OK.

This bit rate setting provides the best compromise between quality and file size. It gives you better than CD quality, which is 128 Kbps, and tracks you rip are significantly smaller than "audiophile" bit rates such as 192 Kbps or higher.
6

Load an audio CD into your Mac.

The CD title shows up in the iTunes Source list (under the Devices heading), which is on the left side of the iTunes window. The CD track listing appears on the right side of the window.

If iTunes asks you whether you want to import the contents of the CD into your Music Library, you can click Yes and skip the rest of the steps; however, if you've disabled this prompt, just continue with the remaining two steps.
7

Clear the check box of any song that you don't want to import from the CD.

The Browse button changes to Import CD.
8

After you select the songs that you want added to the Library, click the Import CD button.

All songs on the CD have a check box next to their title by default. Unmarked songs aren't imported.