How to Make Multitake Recordings in GarageBand
How to Make Multitake Recordings in GarageBand
You can keep recording part of a composition in Apple GarageBand until you feel your performance is perfect. You can even combine the best performance from one take with the best take in another. To make a multitake recording: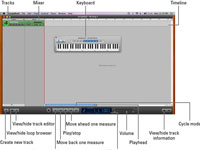 1

Choose the section of the song you want to work on by clicking the cycle mode button.

A yellow cycle region appears below the beat ruler.
2

Drag and resize the region so that its left side aligns with the area you want to start recording.

You also want the right side aligns with where you want the region to end.
3

Press record to start recording the appropriate track.

The playhead moves across the region and then starts over again and again.
4

Click Play when you want to stop recording.

A circled number appears in the upper-left corner of the cycle region, indicating the number of the active takes or the last take you recorded. So if you recorded five takes, the circled number is 5.
5

Click play to hear that take or click the circled number and choose another take from the Take menu that pops up.

After auditioning all your takes, you can delete the ones you have no use for.