How to Enable Screen Sharing on Mac OS X Snow Leopard
How to Enable Screen Sharing on Mac OS X Snow Leopard
Snow Leopard's Screen Sharing feature, which is available from iChat, can be turned on for individual users from the Sharing pane in System Preferences. You can allow access for all user accounts on your Mac, or limit remote access to selected users. Screen Sharing is Apple's implementation of VNC technology.
To set up Screen Sharing, follow these steps: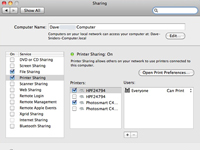 2

Click the Sharing icon to open the Sharing Preferences pane.

The Sharing Preferences dialog appears.
3

Click the Screen Sharing check box to select it.

Screen sharing is enabled.
4

(Optional) Click the Only these users radio button, and click the Add button (which bears a plus sign) to select a user.

This limits remote access to only the specific accounts you select.
5

Close the System Preferences window to save the change.

After you've enabled screen sharing, you can use the Buddies → Share My Screen menu item in iChat to share your screen with another person. To view another person's screen, use the Buddies → Share Remote Screen menu item.