How to Create Mac User Accounts
How to Create Mac User Accounts
The Mac helps keep the peace by giving everyone that uses it their own user accounts. These user accounts are separate areas and are password protected to prevent intrusions. To create a new account for some else, follow these steps: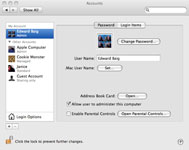 1

Choose the Apple key→System Preferences and then click the Accounts icon in the Systems section.

Alternatively, click your user name on the upper-right corner of the screen, mouse down to Accounts Preferences, and click or get to System Preferences through its dock icon. In both instances, you end up in Accounts Preferences.
2

If the Password tab isn't highlighted, click it. Then click the + on the lower left below the list of names.

If the + appears dimmed, you have to click the padlock at the bottom of the screen and enter your name and password to proceed. (You'll encounter this padlock throughout System Preferences and must click it and enter an administrative password before you can make changes.)
3

Enter a name, a short name, a password, the password verification, and (if you choose) a password hint and click Create Account.

Leave the Allow User To Administer This Computer option unchecked. If you want, you can let the account holder complete the remaining steps.