How to Create an E-mail Group on Mac with Snow Leopard
How to Create an E-mail Group on Mac with Snow Leopard
You might want to organize your Mac e-mail contacts into groups so you can send e-mail to everyone in a group with a single click. The Snow Leopard Address Book makes it easy to create an e-mail group, whether you want to communicate with your son's indoor football league or want to share a press release with a group of fifty newspapers. Here's how to create a group and add contacts to it: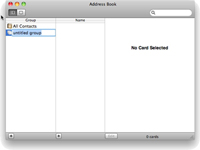 2

Click the + button at the bottom of the Group column.

An untitled Group appears in the Group column with "untitled group" highlighted.
3

Type a descriptive name for this group and then press Enter or Return.

The example here uses PR, which stands for Public Relations.
4

Click All Contacts in the Group column.

All your contacts appear in the Name column.
5

Click the contacts you want in the group in the Name column.

Hold down the Command key as you select to choose more than one contact.