How to Change Images on Your iWeb Site
How to Change Images on Your iWeb Site
After you create your Web site and fill it with pages using iWeb — Mac OS X Snow Leopard's Web site creation and editing application — you can easily replace or resize images. If your page includes photographs that you want to change, follow these steps: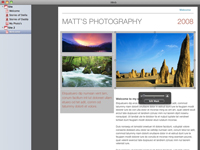 1

Click the image you want to replace.

iWeb displays a box around the image, complete with resizing handles.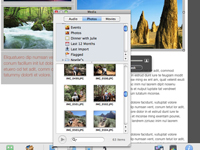 2

Drag an image to the image box from a Finder window.

Alternatively, you can click the Show Media button in the toolbar, which displays the Media Browser. From this window, you can click the Photos tab to choose an image from your iPhoto library.

You can hide the Media Browser to make more room for your page layout. Just click the Hide Media Browser button in the Toolbar.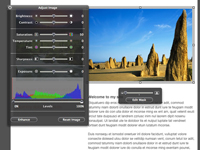 3

(Optional) Click the Adjust button and tweak the image.

iWeb displays a cool, semi-opaque dialog that allows you to tweak image settings, such as tint, brightness, and sharpness. Click Enhance to allow iWeb to choose the settings it considers best for the image, or click Reset Image to restore the photo to its original appearance. When you're satisfied with the image, click the Close button on the dialog to return to the image box.
4

Click outside the image box (usually the page background) after you're satisfied with the photo.

Repeat for each image you want to change on your page.