How to Add Contacts to the Mac OS X Snow Leopard Address Book
How to Add Contacts to the Mac OS X Snow Leopard Address Book
In Mac OS X Snow Leopard, the Address Book has a default location in the Dock, making it available whenever you need it, but it is only useful if you add contact information. Although you can add contact cards directly to your Address Book from the Mac OS X Mail application — by selecting a message from the person you want to add, choosing the Message menu, and then clicking Add Sender to Address Book — adding people this way doesn't add their supporting information.
Follow these steps to create a new contact within your Address Book: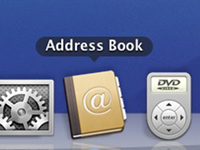 1

Launch Address Book from the Dock by clicking its icon.

The icon looks like an old-fashioned paper Address Book with an @ symbol on the cover.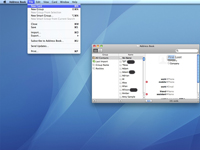 2

Press the Command+N shortcut to create a new contact.

Alternatively, choose File→New Card or click the Add a New Person button at the bottom of the Name column. Address Book displays a template, with the First Name field highlighted and ready for you to type.
4

Continue entering the corresponding information in each field, pressing Tab to move through the fields.

If a field isn't applicable (for example, if a person has no home page), just press Tab again to skip it. You can press Return to add extra lines to the Address field.

When you complete certain fields — such as the Address field — a green plus symbol pops up to the left of the field. That's the Address Book telling you that there are additional versions of the field that you can enter as well. (Think home and work addresses.) Click this plus sign, and you can enter the other version. For example, if you enter an iChat address for the contact at home, the plus sign appears; click it and then you can enter the contact's work iChat address, too.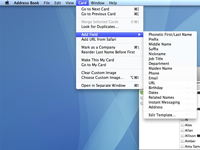 5

(Optional) Add new fields as needed and input their information.

You can add new fields, such as Web addresses, birthdays, maiden names, and the like. To add a new field, click Card→Add Field and choose the field you want to add from the menu that appears.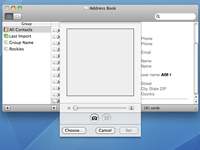 6

(Optional) Click Card→Choose Custom Image.

Alternatively you can drag an image from a Finder window on top of the thumbnail square. Address Book displays a sheet that you can use to select an image to display for this contact. Click Choose to display the Open dialog.

If your Mac has an iSight camera, you can click the Capture a picture from a video camera button (which bears a snazzy camera icon).