How to Add an iChat Buddy in Mac OS X Snow Leopard
How to Add an iChat Buddy in Mac OS X Snow Leopard
iChat is Mac's chatting application. You can add anyone you want to chat with as a Buddy. iChat keeps track of your Buddies in the Buddy list. You can also add them to your Address Book or use the AIM entry in an Address Book contact to generate a new Buddy identity.
To add a new Buddy, follow these steps: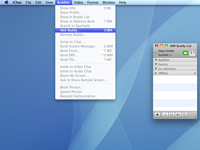 1

Choose Buddies→Add Buddy.

You can also click the Add Buddy button at the bottom of the iChat window and click Add Buddy from the pop-up menu, or press Command+Shift+A.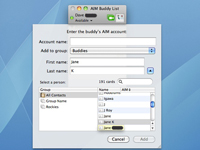 2

Choose a Buddy from your Address Book.

To create a Buddy entry from an Address Book contact who has an Instant Messaging username, click the down-arrow button next to the Last Name box to display the Address Book list. Click the entry to select it.

As a shortcut, you can also click in the First Name box and then type the person's first name or click in the Account Name box and type the person's Instant Messaging account name.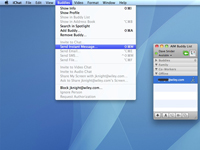 3

Add a Buddy who isn't in your address book.

Type the person's Instant Messaging account name and click the pop-up menu to select the proper account type (either MobileMe or AIM).
4

Click Add to save the Buddy information.

Even when you add a new Buddy and that name appears in the Buddy list, don't be surprised if the name actually fades out after a few seconds. That indicates that the person is offline and unavailable. You can also tell when a person is available if her name appears with a green bullet in the Buddy list.