How to Set Up Backups for a Windows 7 Home Network
How to Set Up Backups for a Windows 7 Home Network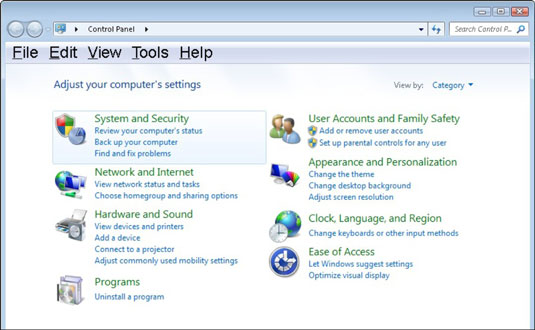 112
Open the Windows Control Panel, and then click System and Security.
The System and Security window appears.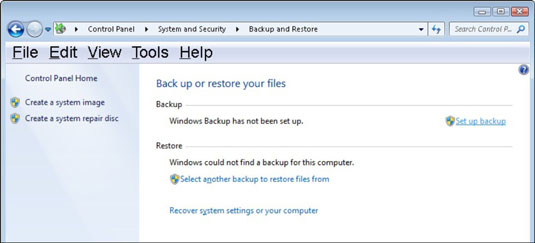 212
Under Backup and Restore, click Back Up Your Computer. Then, under Backup, click Set Up Backup.
Windows 7 detects any hard disks or removable drives installed on your computer. The Select Where You Want to Save Your Backup screen appears.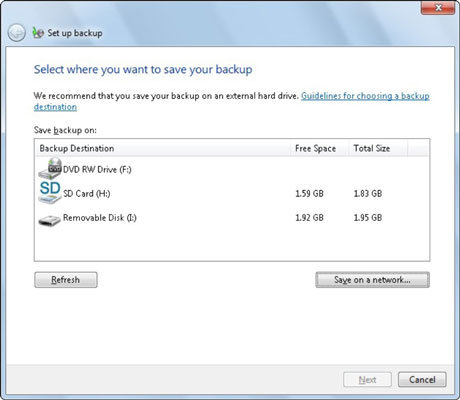 312
Select a destination for your backups and click Next; then skip to Step 5.
Alternatively, if you want to save your backups to a shared location on your network (rather than one of the listed devices), follow the next step.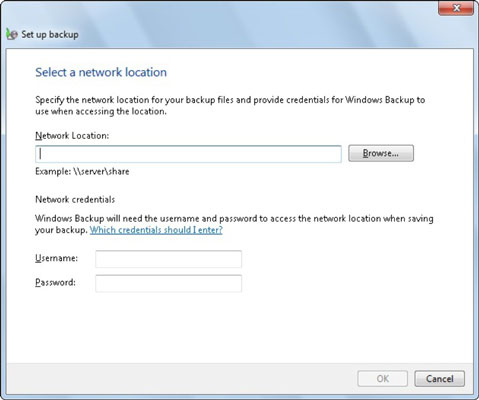 412
Click Save on a Network. Then, enter the network location manually in the format \servershare. Under Network Credentials, enter a Username and Password that Windows Backup can use to access the network.
Server is the name of the computer that you will be saving your backups onto and share is the folder on that computer. You can also click Browse to navigate directly to the computer and folder. Keep in mind that the network location must be available at the time the backup is scheduled to run.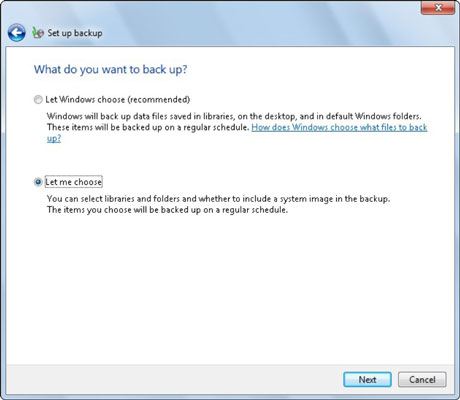 512
Select what you want to back up, and then click Next.
If you select Let Windows Choose, the libraries (Documents, Music, Pictures, and Videos), as well as any files saved on the desktop and in any default Windows folders, are backed up for all users on the computer. (Go to Step 7.) If you select Let Me Choose, you will be able to designate what gets backed up on your computer.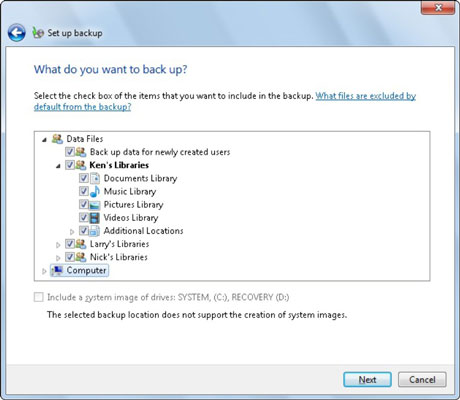 612
Select the check box to the left of the folders that you want to back up. Click Next.
You can click the arrow to the left of the check box to expand the folder further, and then select or deselect folders. You can also select the check box to create a system image if your backup destination device supports backup images.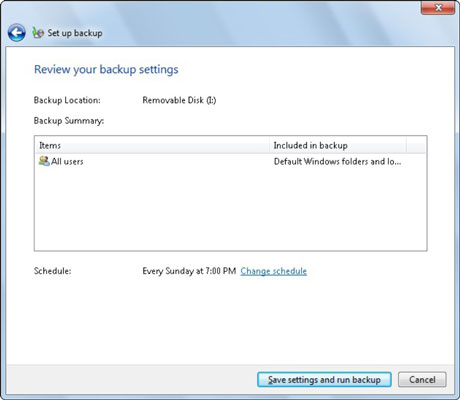 712
On the Review Your Backup Settings screen under Schedule, click the Change Schedule link.
You can disable scheduled backups (not recommended) and choose how often (daily, weekly, monthly), what day of the week or month (1 through 31, or the last day of the month), and at what time you want your backups to run.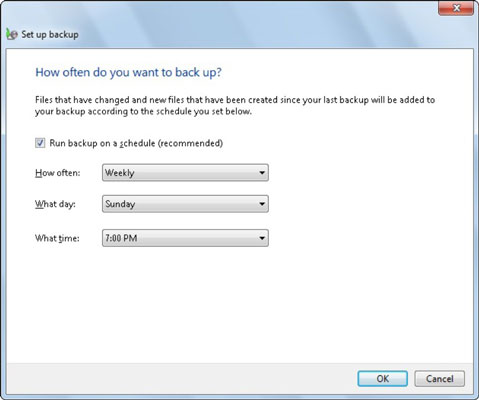 812
Specify the frequency and schedule for your backups, and then click OK.
The Review Your Backup Settings screen appears.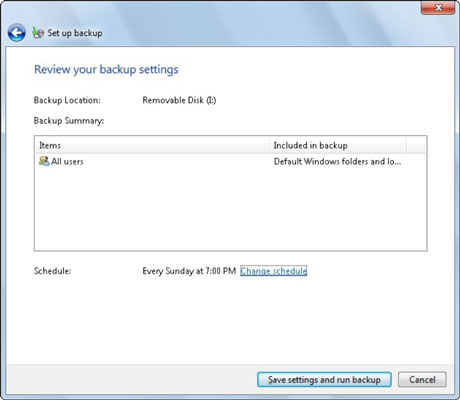 912
Click Save Settings and Run Backup.
Windows Backup begins your first backup.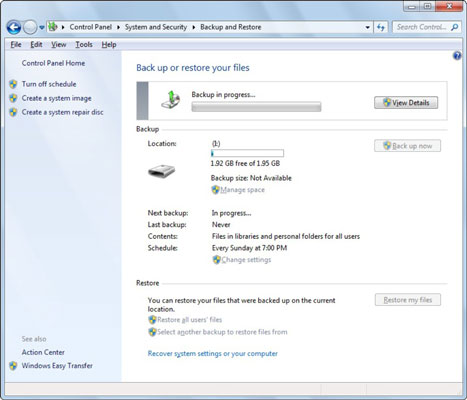 1012
You can click View Details to see more information about your backup or stop the backup.
If you click View Details, you can then click Stop Backup to discontinue the backup job, for example, if the backup job is taking too long and therefore slowing down your computer, or if you realize you've made a mistake selecting what needs to be backed up.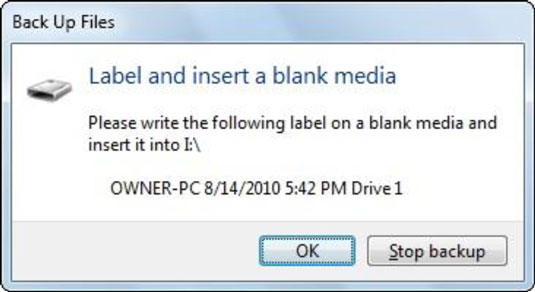 1112
When Windows Backup is ready to begin writing to the backup location, it will verify that the destination is available (for example, a blank DVD-R disk or USB drive). If necessary, insert the correct media and click OK.
Windows will also instruct you to label the blank media and recommends a label. You don't have to use the exact label that Windows recommends (which consists of the computer name, date and time, and the drive or disk number).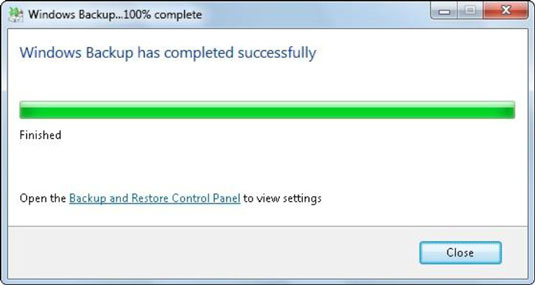 1212
When your backup has successfully completed, Windows Backup will indicate the status. Click Close.
Your backup is complete! Remove the backup media (if applicable) and store it in a secure location.
If the destination device that you select for your backup does not support security permissions (which is likely), a warning will appear indicating that other people may be able to access your backup data if they have physical access to the destination device. You should store your backups in a secure place (such as a lockable fireproof cabinet, a personal safe, or a bank safe deposit box).