6 Tips to Help You Utilize Asana Account Settings
6 Tips to Help You Utilize Asana Account Settings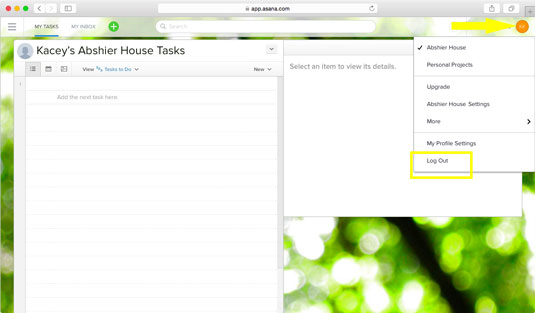 16
Always log out when you are finished.
Source: asana.com
Since Asana is a task-management application, it tends to stay logged in, even after long periods of inactivity. If you close the web browser, the Asana app will continue to stay connected to your computer. This can be a security risk to your account in some instances when you are using a shared or public computer. Make sure to always log out officially by clicking on your name and selecting the Log Out option.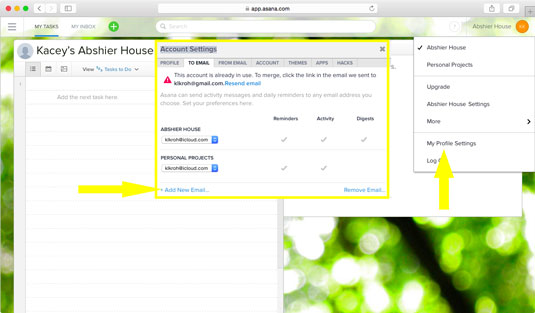 26
Merge multiple Asana accounts.
Source: asana.com
To make things easier on you, Asana has the capability to merge multiple accounts. Simply click on your profile photo and click My Profile Settings. From the To and From Email tabs you can enter an email that you have already used with a previous Asana account. Simply add it as a secondary email to your new or primary account.
Asana will automatically recognize that the email provided is already in use within their systems. The web app will ask whether you would like to merge accounts or not. Click on the correct corresponding buttons, and you will be sent email to all accounts in question to confirm the merge. Click the link provided in the email, and your accounts will be linked together as one.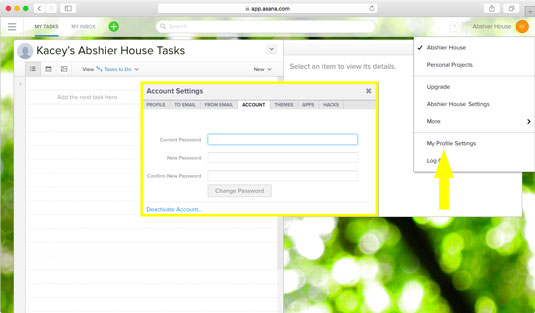 36
Change your password regularly.
Source: asana.com
Because Asana is considered to be a business solution to task management, for security purposes, it is recommended that you change your account password at least once every three months. Navigate to the Account Settings window → Account tab.
Enter your existing password, a new password, and the new password again and click the Change Password button. If you feel your account has been compromised, you can deactivate the account by clicking on the Deactivate Account text in the bottom left corner of the Account tab.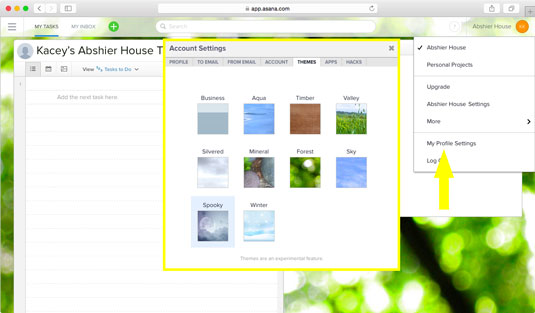 46
Customize your Asana theme.
Source: asana.com
Customizing your Asana theme allows you to change how the Asana web app looks. By having the capability to change your theme, you can make the app more eye pleasing to you. To change your theme, navigate to the Themes tab inside the Account Settings window. Select the theme of your liking and you're done. You can change themes regularly, and in future Asana updates more themes will become available.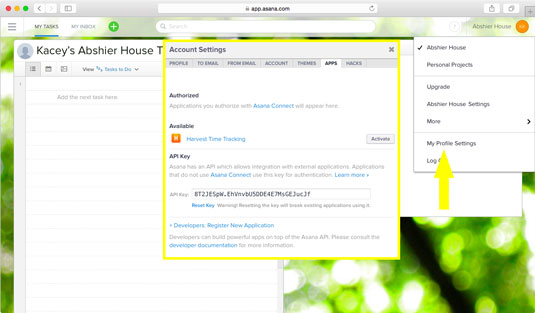 56
Link and use apps.
Source: asana.com
To link and use third-party applications you must click on your profile photo → My Profile Settings → Apps tab. After you have navigated to the Apps tab, you will be given the choice of apps to link to Asana.
You can natively link apps such as Harvest Time Tracking. Or, you can copy the API Key Provided to allow access to non-native Asana applications such as Dropbox or Four Square. By linking other task management applications to your Asana account, you will be able to stay on top of things more easily and from one application instead of many.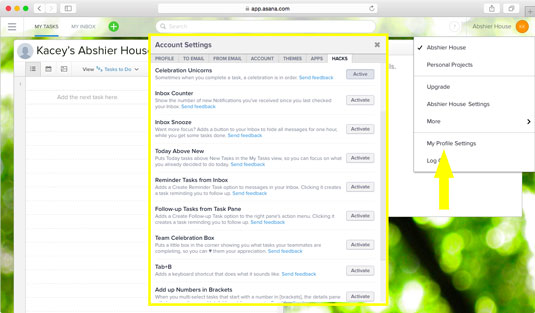 66
Use Asana hacks.
Source: asana.com
The use of hacks makes Asana a more enjoyable experience. Access the Hacks tab by navigating to the account settings window. Read through and choose the hack you wish to incorporate into your team's Asana page.
Some hacks are useful and some hacks are simply available for entertainment purposes only. For instance, activating the celebration unicorn hack will create a casino type animation of a unicorn that flies across the screen on a rainbow made of encouraging statements. This particular hack is created to happen randomly among team members as they complete assigned tasks and serves no real purpose, except to possibly encourage teams to complete more tasks. To activate a hack to your account simply click the Activate button just left of the hack.