Walk through the Illustration Process for Children's Books
Walk through the Illustration Process for Children's Books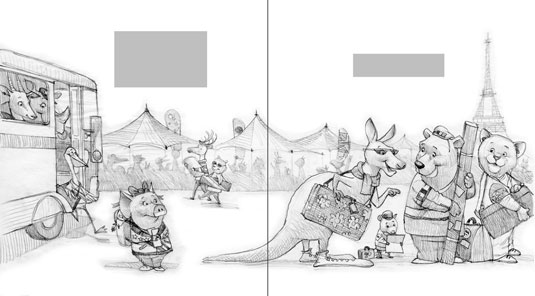 15
Start with black and white pencil sketches.
Tim Bowers, like most illustrators, has a three-prong process with pencil sketches. He starts with black-and-white pencil sketches.
Depending on the art director and editor's reaction to the sketch, Tim may be given the go-ahead, or he may be given change notes and then allowed to proceed to step two: pencils.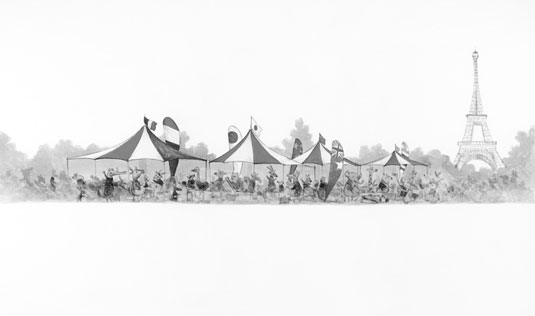 25
Move on to finished pencils.
After he completes sketching out the entire book, Tim proceeds to the second step: pencil drawings, also known as "pencils." Shown is the background finished pencil.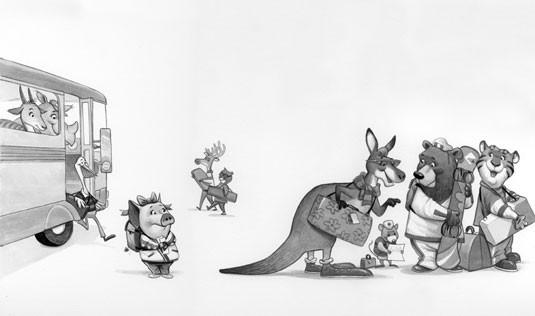 35
Create a separate foreground finished pencils if requested.
Although he prefers to create one, cohesive piece of art at every stage, his publisher with It's a Big World, Little Pig asked that he create the foregrounds and backgrounds separately at both pencils and final art stages in order to allow for repurposing and splicing of the illustrations in animation sequences and apps for tablets and smartphones.
Before working on the cover images, the final prong of the illustration process is creating the color art.
In It's a Big World, Little Pig, Tim works with acrylic washes on Bristolboard. In other words, he paints with very thin washes of acrylic paint, adding layers of color and saturation as he goes, leaving the opaque areas last. As he renders with more layers and more color, the object being illustrated is given more dimension and depth.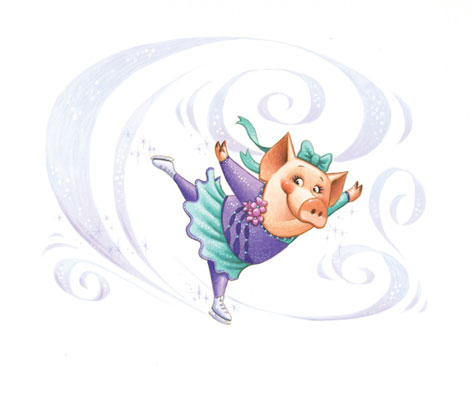 45
Create the cover art.
The cover of a picture book is a free for all with the most important job of all: selling the book in the space of a nanosecond. If a children's book cover doesn't grab a customer's attention in a microsecond and hold onto it long enough for her to pick up the book, then it has failed in its job.
Notice how much personality, movement, and verve are encapsulated in this one piece of spot art.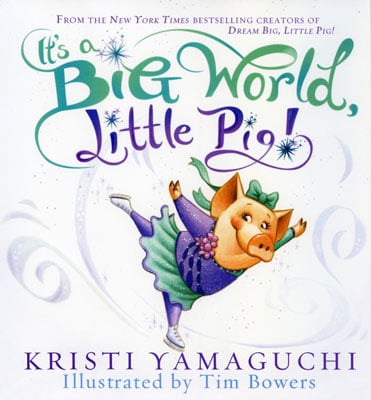 55
Finalize the cover design.
Notice how the hand-drawn lettering, the ample white space, and the other design elements come together to sell the book in the final cover. And yes, the celebrity author's name is prominently placed.