Reviewing Facebook's Local Report to Learn about Activity Nearby
Reviewing Facebook's Local Report to Learn about Activity Nearby
The Local report on Facebook shows you the activity going on around your business location. You can see peak hours of action, demographic info, and Ad performance as it relates to people who are near your physical location.
To view the Local report, click the Local tab within Facebook Insights. You see a visual of your business location. You can choose to view data within a specific date range (One Week, One Month, and One Quarter) and Region. (All the data is anonymous, so you're not invading anyone's privacy.)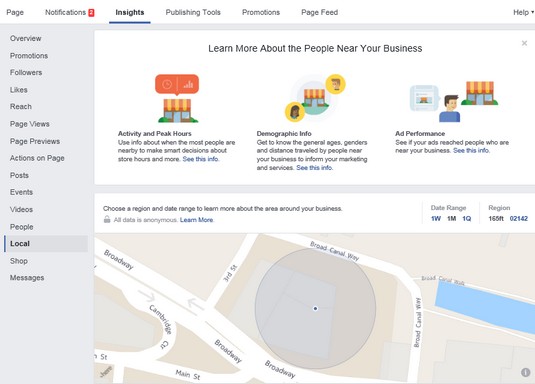 Next, you see a breakdown of age and gender for the people nearby. You also see the hours of the day and the day of the week when activity near your location is highest. This helps you determine what hours your store or service business should be open for business.
The Ad performance graph displays the percentage of people who saw your ad on Facebook who were within 165 feet of your business in relation to your ad spending. This shows you which days were high-performing days.
The People Nearby graph shows you data concerning people within 165 feet of your location hourly (for a 24-hour period), weekly (days of the week for one week), overall (trend data that shows you people nearby in relation to people nearby who saw your ads) and by check-ins (the number of people who checked into your business).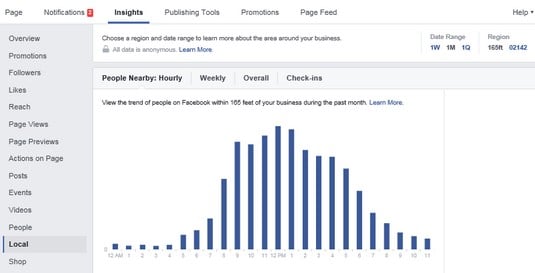 The Demographics graph shows you people within 165 feet of your business within the last month. You can display this information in a bar graph or line graph format depending on which display button you choose. The data is broken out by
Age: Gives the percentage of each age range of people nearby
Gender: Gives the percentage of each gender of people nearby
Home Locations: Shows people who live within 165 feet of your business, or people who travel from 165 feet to get to your business
Age and Gender: Shows the aggregate of age and gender of people nearby