How to Repost a Blog Post to Facebook with NetworkedBlogs
How to Repost a Blog Post to Facebook with NetworkedBlogs
You can repost any of your old blog posts by clicking the NetworkedBlogs Quick Publisher link below the post. It will immediately post on Facebook. Just follow these easy steps:
1

Click the Quick Publisher link.

A pop-up window appears.

2

Select the target (where you want to send the blog post) by clicking the Publish To field.

You can select multiple targets.
3

Select the post to send by clicking the Attach a Post from my Blog button.

A drop-down menu appears, listing your blog posts.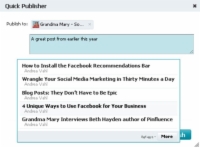 4

Choose one from the list and then click the blue Publish button.

The post is sent.

You should repost some of your blog posts from time to time if they're still relevant and helpful to your audience. New people who are coming to your Page won't have seen all the posts when they first came out.

Many people ask whether they should post their business blog to their personal Profile as well as their Page. You probably aren't posting to your blog that often, and many referrals can — and should — come from your Friends and family, and seeing a blog post may spark a connection for them to share your post with one of their Friends.