Small Business Marketing Kit For Dummies Cheat Sheet
Small Business Marketing Kit For Dummies Cheat Sheet
Marketing is the process through which you win and keep customers. Marketing covers all the steps that tailor your products, messages, distribution, online presence, sales presentations, customer service, and other business actions to match the desires of your most important small business asset: your customer. Following is an overview of information that every small business marketer needs to know.
20 Marketing Truths for Small Businesses
Marketing is the key to achieving customer interest, winning customer purchases, earning customer satisfaction and loyalty, and keeping your small business in business. Following is the least you need to know as you plan your small business marketing program:
On marketing: Marketing isn't about talking to your customers; it's about talking with them. Marketing relies on two-way communication between your business and your buyers.

On customers: As a business owner, you don't work for yourself; you work for your customers.

On products: Customers expect your business to offer products that are competitive on price, quality, and speed, and they expect you to be exemplary in at least one of those three areas.

On competition: One of the biggest obstacles to the purchase — and therefore your biggest phantom competition — is your customer's inclination to do nothing at all.

On commitment: Dedicate time or money, or both, if you want to market your business from where it is to where you want it to be.

On your business image: Most of the time, your business makes its first impression when you're nowhere to be found. In your stead is your website, Facebook page, voice mail message, ad or direct mailer, business sign, or some customer's online review or rating. Be sure those impressions align so people form the opinion you want them to have.

On brands: A brand isn't a logo; a logo is a symbol that identifies a brand. A brand is a set of beliefs in the customer's mind; a promise customers believe. Consistency builds brands, and brands build business.

On features versus benefits: When you describe a feature of your product or service, you're talking to yourself. When you describe a benefit your product or service delivers, you're talking to your prospect. Consumers don't buy features — they buy benefits and solutions.

On hiring professionals: Getting help is a sign of success. It means you've decided to invest in your business image and message.

On getting online: If you're in business — any business — your customers or those who influence your customers are online. If your business isn't online, it's past time to establish a web presence.

On social media: Enter social media networks to build relationships and interact with consumers, not to place promotional messages that intrude, annoy, and harm more than they help your business and brand.

On blogs and digital content: A blog is the hub of an online information-distribution strategy that draws customers into interactive relationships.

On print ads: Four out of five people read only the headline of print ads.

On broadcast ads: In all media and especially on radio and TV, it takes reach to achieve awareness; it takes frequency to change minds.

On direct mail: TV ads win awards and build awareness. Social media wins buzz and launches relationships. Direct mail that takes a compelling offer straight to genuine prospects wins customers and return-on-investment contests.

On brochures: The only good brochure is one that moves those in your target audience one step closer to a buying decision.

On public relations: Do the right thing and then use publicity and other nonpaid communication opportunities to talk about it.

On networking: In person, you have about 20 seconds to introduce yourself and make others want to know more. Online you have about 20 words.

On customers and loyalty: The number of people you reach doesn't matter. What's important is how many qualified prospects you reach and how you move those people through the steps necessary to win their business, repeat purchases, and loyalty.

On marketing plans: Marketers with marketing plans market best.
10 Steps to Creating a Marketing Plan for Your Small Business
A marketing plan powers your business and is at the heart of any good business plan. In 10 steps and on as little as a couple of pages, follow this template for writing a marketing plan that turns your marketing effort into a planned investment rather than a hopeful risk.
State your business purpose.

Define your market situation, focusing on issues that affect your customers, your product, and your competition.

Set goals and objectives.

Define your market and customer profile.

Define your position, brand, and creative strategy.

Set marketing strategies for your product, pricing, distribution, and promotion.

Outline your communication tactics.

Establish your budget.

Blueprint your action plan.

Define opportunities for long-term market development.
A Helicopter View of the Marketing Process
Whether yours is a start-up or an existing business, whether your budget is large or small, whether your market is local or global, and whether you sell online or through a bricks-and-mortar location, your marketing follows the same nonstop cycle.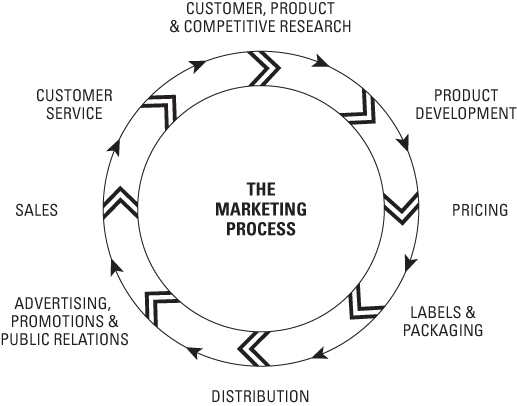 Conduct research to gain knowledge about your customers, product, market area, and competitors.

Tailor your product, pricing, packaging, and distribution strategies to address your customers' needs, your market environment, and the competitive realities of your business.

Create and project marketing messages to reach your prospective customers, inspire their interest, and move them toward buying decisions.

Go for and close the sale — but don't stop there.

After you make the sale, begin the customer-service phase.

Work to develop relationships and ensure high levels of customer satisfaction so that you convert the initial sale into repeat business, loyalty, and word-of-mouth advertising for your business.

Interact with customers to gain insight into their wants and needs and their use of and opinions about your products and services.

Combine customer knowledge with ongoing research about your market area and competitive environment, using your findings to fine-tune your product, pricing, packaging, distribution, promotional messages, sales, and service.
Pulling Customers to Your Business Online
Today's marketers live in a world where pull marketing rules, especially online. Pull marketing involves developing consumer interest by providing entertaining or educational messages that pull attention toward your business, often via your website.
In today's screen-connected marketplace, pull marketing is interactive; it's two-way communication that begins with information, usually referred to as content, that you originate and customers encounter through search engines, referrals, and social media. From there, customers take over by clicking a provided link, reaching out by phone or in person, and, best of all, passing your message on to others through online or off-line sharing. Pull marketing is also called inbound marketing and two-way communication.
Push marketing involves pushing messages and products at customers by interrupting them and prompting them to take the action you're promoting. Push marketing is one-way communication: You talk and your customer listens and, ideally, takes action. Most often, push marketing takes place through mass media advertising, direct mail, online banner ads, and cold calls to prospective customers. It's also known as outbound marketing and one-way communication.
Outbound marketers have to push their way in front of customers, interrupting them and hoping to seize their attention. Inbound marketers draw customer interest with valuable content that customers find, share, and act upon online.