How to Choose Your Google Analytics Reports
How to Choose Your Google Analytics Reports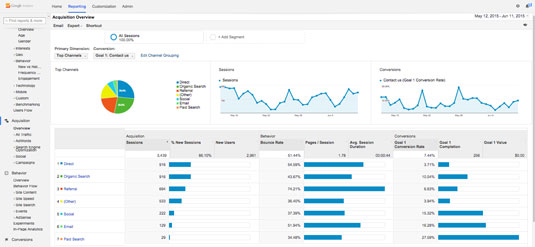 17
Google Analytics source report
Setting up goals is important, so it makes sense to set up reports based on the goals and objectives you set forth in your inbound marketing plan. To keep it simple, the goal examples here are based on one goal, "Contact Us."
The figure displays a source report for a website. The source report shows which are attracting your visitors. Note that a couple of studies, including one performed by Google, determined that Google underreports organic traffic, designating it as "referrals." Currently, it's possible that up to 60 percent of your referral traffic is actually organic so consider manually applying that into your attraction source evaluation.
Notice how it ranks by attraction source and is easily compared for each of your important GA dashboard metrics. This is important because it provides relevance and should stimulate questions from the analyzer. Why is one source's bounce rate higher and one lower? Why do people from certain sources stay on the website longer? Why are some sources completing a goal at a rate seven times that of (in the example) other sources. At this point, you're not looking to fix any problems. Nor are you making any assumptions. You are simply playing Curious George, investigating possibilities.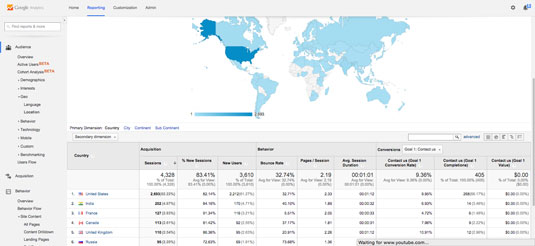 27
Google Analytics location report
The location report displays a world map and table featuring the geographic area of your visitors. It's important to look at your visitors' geographic place of origin so you may filter out any countries, states, or cities you do not serve. Using location reporting to determine your percentage of traffic that is geographically qualified may provide clues as to how to better use local digital marketing. It's also helpful to filter out any areas you do not plan on servicing. For instance, much of the traffic from India (second-ranked geographic traffic) is from people researching inbound marketing articles. Only two quality leads have been generated from India over the past two years, so filtering out India and any other countries not serviced, paints a more accurate picture about my website traffic quality, defined geographically.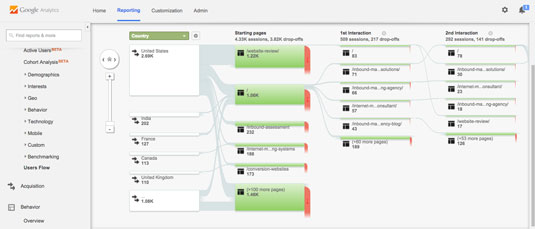 37
Google Analytics User Flow report
User flow is, in my opinion, one of the coolest features in Google Analytics. It displays an aggregate of where people enter your site and which pages they visit in sequential order. Using this tool, you're able to look at onsite conversion flow.
You can easily see and filter the visitor's country of origin and filter the results. For instance, if you only wanted to see user flow paths from U.S. visitors, click on U.S. and choose one of two options:
Highlight Traffic Through Here displays the traffic that originates from here, comparing it to total traffic for the subsequent pages in the user flow. In the example above, clicking Highlight Traffic Through Here shows you where people from the U.S. went as compared to other visitors. You can click on any pages in your user flow to highlight incoming and exiting traffic.
Explore Traffic Through Here displays the visitors who visited the page you click. Using this feature helps you isolate segmented user flows, and determine how a particular set of people journey through your website. Using this feature by clicking Explore Traffic Through Here on an end conversion page provides a glimpse into conversion paths taken to reach this conversion page. Now you can look for pages that may act as roadblocks to a frictionless Buyer's Journey on your website.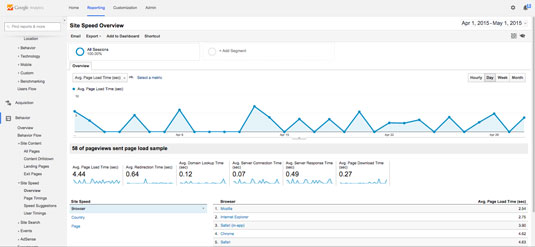 47
Google Analytics Site Speed report
Site speed affects UX and your SEO. It's a simple report, providing download speed by page, ranking by your most-visited pages. Looking at the sample report shows that my page download speed, at over four seconds, is way too slow. Knowing this means it's time to get one of the developers to fix the issue.
On the left hand menu, under Behavior, click Site Speed, then click Speed Suggestions. Enter the page URL into the pop-up (it's simplest to copy and paste it from the Google Analytics) and Google provides suggestions to improve your site speed on a tested page.
Site speed's influence on your organic rankings increased recently. Using this tool enhances your SEO and UX, which may affect your conversions positively.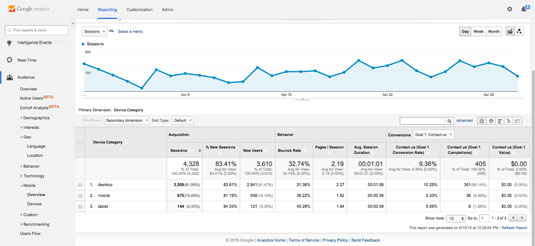 57
Google Analytics Mobile Device report
Knowing your percentage of mobile visitors is as easy as pulling up the Mobile Device report. Some website are heavily dependent on mobile. This report displays the percentage of people accessing your website from desktop, mobile, and tablet. Consider using this data by comparing mobile conversion paths to nonmobile conversion paths. Are your mobile visitors converting at the same rate as desktop users? Are you conversion pages mobile-friendly or are you seeing a large number of mobile user exits from any given page?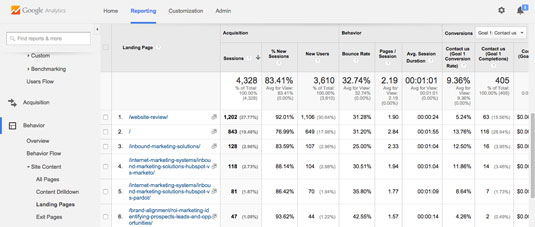 67
Google Analytics Landing Page report
Conversion is half of the inbound marketing equation and landing pages are your main conversion mechanisms. Under Behavior, click Site Content, then click Landing Pages. Because landing pages are your conversion points and the goal of inbound marketing is conversion, using this tool provides meaningful data a couple ways:
Compare relative conversion performance for each of your most important landing pages.

Use the landing page report to determine which pages you want to examine in User Flow report. Look for any similarities of customer purchase paths for high performing landing pages while looking for purchase path roadblocks (and on-page) for under-performing landing pages.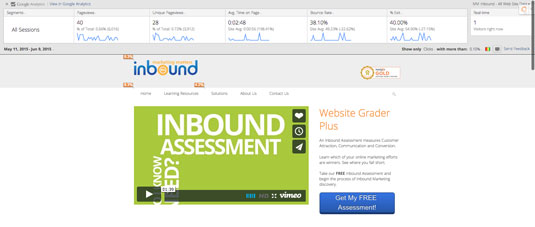 77
Google In-Page Analytics report
Knowing where people are clicking on each of your website pages . . . and where they're not . . . is the key to improving your conversion rates. In-page analytics reports onsite analytics on your website instead of inside Google Analytics. It displays the percentage of clicks a link from your page is getting.
The percentage displayed is for the link, not necessarily the image, button, or text link. This is important to note because providing multiple links to the same page results in the same percentage click for each link. So, unless there's only one link to a path, the report is not telling you exactly where your visitor clicked on the page. So, you can't determine which component was clicked but you can determine which pages people are clicking through to on your website as a percentage of total clicks on the particular page being measured.