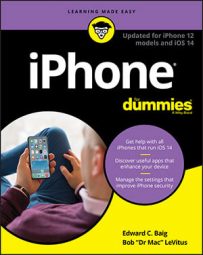 iPhone For Dummies: Updated for iPhone 12 models and iOS 14
By: Edward C. Baig and Bob LeVitus Published: 12-14-2020
Just when you think Apple's thought of it all, a new iPhone model comes out with even better operation and new features to enjoy. This updated guide to the newest iPhone also covers how to install and use iOS 14 on models back to the iPhone 6s. Learn how to harness all your iPhone has to offer in an easy-to-understand way.
Articles From

iPhone For Dummies: Updated for iPhone 12 models and iOS 14
Sorry, there are no articles to show here.