Most decisions involve trade-offs, and downsizing definitely has advantages and disadvantages — some obvious and others you're not likely to discover until you do it. Downsizing is a very personal journey that can take months to fully execute, or even longer if you decide to build a new home.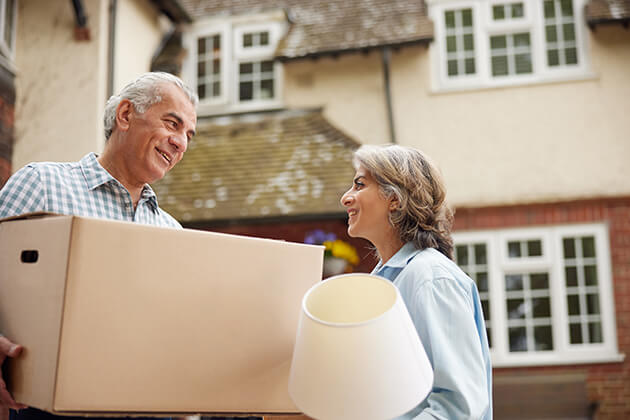 ©Daisy Daisy / Adobe Stock
Before you hop on board, carefully consider the pros and cons of downsizing and the pros and cons of not downsizing. If you choose not to downsize, what are the likely consequences of that choice? Who will suffer those consequences — you, your children, the state?
Potential benefits of downsizing
Downsizing offers a long list of potential benefits — too many to cover in this article — but here are the highlights:
Less home to clean, maintain, heat, cool, and insure
Lower utility bills
Smaller house payments
Less debt/more money in your pocket
Fewer possessions to organize and maintain, making it easier to find things and less likely you'll misplace them
Increased freedom and more money to do what you want
Less anxiety-inducing clutter, resulting in clarity of mind and better sleep
A fresh start
A chance to escape from any unpleasant neighbors ( Although, think twice before moving just to get away from nasty neighbors; you may end up with worse ones!)
More time to spend with friends and family
Improved family dynamic — downsizing can often force family members to spend more time together in communal areas (which can have a positive or negative effect on the family dynamic)
A more manageable life, especially if you're downsizing to a living situation in which you can get the help you need (assuming you need help)
Potential downsizing drawbacks
You can't shed belongings and move without experiencing some pain. Here are some of the possible downsides of downsizing:
Difficult choices: You'll need to make some difficult decisions about what to keep and what to let go — not exactly Sophie's Choice difficult, but challenging nevertheless.
Loss of convenience: For example, if you have a workout room, downsizing may mean you'll need to hit the local gym instead. You may also need to trim your collection of power tools, kitchen appliances, and personal spa equipment. What?! No paraffin wax machine?! No bubbling foot spa?!
Less room for storage: You never really appreciate how valuable storage space is until you have less of it.
Cost: Moving can be expensive. Even if you're downsizing your living space, you may have expenses related to buying and selling a home, moving, and furnishing the new place.
Less room for entertaining: You may need to cut down on your dinner parties, scale them back, or eat out more … yes!
Cramped living space: You and your partner may feel as though you're always on top of each other — and not in a good way.
Loss of the familiar: You'll be taking on something new and unfamiliar. It's like starting over for some people, which can feel as though you're closing a chapter of your life and leaving memories behind.
Loss of friends: If you have close relationships with neighbors, moving can make you feel as though you're breaking off close friendships.
Change in routine: You'll need to establish a new routine in a new place. If you're downsizing to an assisted living arrangement, you may also be looking at a loss of independence and freedom.
Loss of status: You may feel as though you just dropped down a few rungs on the ladder of success.
Disappointment: You may feel disappointed if the reality of downsizing doesn't quite live up to the ideal you romanticized.
If your first attempt at downsizing doesn't work out and leaves you feeling disappointed, it's not the end of the world. You can always try something different. However, downsizing mistakes may be costly; you can end up paying more in agent commissions and closing costs, not to mention moving costs — so do it right the first time.
About This Article
This article is from the book:
This article can be found in the category: