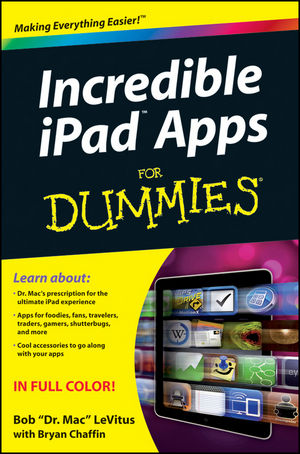 Incredible iPad Apps For Dummies
Buy this book from:
ISBN: 978-0-470-92979-7
Paperback
240 pages
December 2010
Fill your iPad with cool apps with help from this full-color directory!

The popularity of the iPad is growing at an unstoppable rate and users are looking for help sorting through the tens of thousands of apps available in the App Store. Packed with helpful reviews and valuable tips on how to make the most of each app, this book walks you through the vast selection of apps and helps you narrow down the most essential and entertaining apps for your needs and interests. Mac guru Bob "Dr. Mac" LeVitus helps you uncover the best of the best apps in business, education, entertainment, finance, health, fitness, games, news, music, sports, weather, and more.
Helps you sort through the tens of thousands of apps available for the iPad so you can find the apps that are right for you
Shows you a variety of the most useful apps in the fields of music, entertainment, sports, business, games, news, social networking, health and fitness, and more
Helps you uncover what apps are worth the price and what's fabulous for free
Provides expert insights and light-hearted reviews of each featured iPad app from longtime For Dummies author and Mac enthusiast Bob "Dr. Mac" LeVitus
With Incredible iPad Apps For Dummies, you'll discover how to have fun, get more done, and make the most of your iPad.

More Information About this Book
More Information About this Book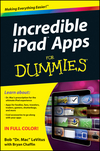 Incredible iPad Apps For Dummies
ISBN: 978-0-470-92979-7
Paperback
240 pages
December 2010