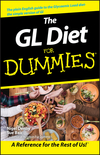 The GL Diet For Dummies
ISBN: 978-0-470-02753-0
Paperback
252 pages
May 2006
US $16.99

Add to Cart
Nigel Denby
trained as a dietitian at Glasgow Caledonian University, following an established career in the catering industry. He is also a qualified chef and previously owned his own restaurant. His dietetic career began as a Research Dietitian at the Human Nutrition Research Centre in Newcastle upon Tyne. After a period working as a Community Dietitian, Nigel left the NHS to join Boots Health and Beauty Experience where he led the delivery and training of Nutrition and Weight Management services.
In 2003 Nigel set up his own Nutrition consultancy, delivering a clinical service to Hammersmith and Queen Charlotte's Hospital Women's Health Clinic and the International Eating Disorders Centre in Buckinghamshire as well as acting as Nutrition Consultant for the Childbase Children's Nursery Group.
Nigel also runs his own private practice in Harley Street, specialising in Weight Management, PMS / Menopause and Irritable Bowel Syndrome. Nigel works extensively with the media, writing for the
Sunday Telegraph Magazine
,
Zest
,
Essentials
, and various other consumer magazines. His work in radio and television includes BBC and ITN news programmes, Channel 4's
Fit Farm
, BBC
Breakfast
, and BBC
Real Story
.He is the author of
Nutrition For Dummies
.
Sue Baic is a Lecturer in Nutrition and Public Health in the Department of Exercise and Health Sciences at Bristol University. She has a first degree from Bristol University followed by a Master of Science in Human Nutrition from London University. Sue is a Registered Dietitian (RD) with over 15 years' experience in the field of nutrition and health in the NHS and as a freelance consultant. She feels strongly about providing nutrition information to the public that is evidence based, up to date, unbiased, and reliable.
As a member of the public relations committee of the British Dietetic Association she has written for the media on a variety of nutrition related health issues. Sue lives in Bristol and spends her spare time running up and down hills in the Cotswolds in an attempt to get fit. She is the author of Nutrition For Dummies.