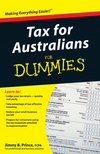 Tax for Australians For Dummies
ISBN: 978-1-74216-859-3
Paperback
324 pages
June 2009
US $21.99

Add to Cart
Created especially for the Australian customer!
Take the headache out of tax with this essential guide
Paying taxes is something no-one can escape, but it doesn't have to be complicated. In Tax for Australians For Dummies, expert Jimmy B. Prince walks all taxpayers through every aspect of tax -- whether you're an employee, investor, small business owner or taxation student. Using plain English, this easy-to-follow guide helps you understand the Australian tax system and potentially make significant savings on your tax bill. 
The basics of taxation in Australia -- from lodging a tax return to dealing with an audit
Saving tax as an employee -- from claiming tax deductions to increasing your nest egg using superannuation and taking advantage of tax offsets when you have children
Tax-effective investing -- from taxation of interest received to investing in shares and property
Reducing your tax bill as a small business owner -- from choosing a business structure to paying GST and fringe benefits tax
Thinking long term -- from structuring your superannuation to receiving a government pension and preparing a will