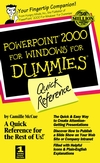 PowerPoint 2000 For Windows For Dummies Quick Reference
ISBN: 978-0-7645-0451-8
Paperback
224 pages
May 1999
US $14.99

Add to Cart
Introduction: How to Use This Book.

PART I: Getting to Know PowerPoint 2000.

PART II: Creating Basic Presentations and Slides.

PART III: Working with Templates and Masters.

PART IV: Adding Text.

PART V: Adding Multimedia Goodies.

PART VI: Showing Your Business Savvy.

PART VII: Showing Your Presentation.

PART VIII: Publishing Your Presentation.

PART IX: Using PowerPoint Online.

PART X: Tips, Tricks, and Troubleshooting.

Index.

Book Registration Information.