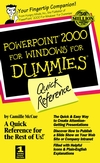 PowerPoint 2000 For Windows For Dummies Quick Reference
ISBN: 978-0-7645-0451-8
Paperback
224 pages
May 1999
US $14.99

Add to Cart
Point and click your way to dazzling PowerPoint multimedia presentations in a snap with the fast answers you'll find in PowerPoint 2000 For Windows For Dummies Quick Reference.

Zero in on the information you need and build the multimedia slide shows you want, with this fast and friendly reference book. Develop a complete, professional-looking PowerPoint presentation with templates and wizards; and integrate text, graphics, sound, and video easily and effectively. Create your own custom graphics with the Drawing toolbar, and publish or deliver an online presentation by using PowerPoint 2000's exciting new Web features. Whatever your ultimate goals, PowerPoint 2000 For Windows For Dummies Quick Reference will help you along the way with clear, concise answers to all your PowerPoint questions and step-by-step instructions on how to do the things you want to do, when you want to do them.

Best of all, the slim, spiral-bound design means that you can keep this book open to the page you need for quick lookups, and save extra time as you discover the sights and sounds of PowerPoint presentations at your fingertips.