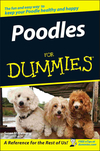 Poodles For Dummies
ISBN: 978-0-470-06730-7
Paperback
298 pages
February 2007
US $16.99

Add to Cart
Introduction.
Part I: Picking the Poodle of Your Dreams.
Chapter 1: Making a Match with a Poodle.
Chapter 2: Unwrapping the Whole Poodle Package.
Chapter 3: Deciding Whether a Poodle Is Right for You.
Chapter 4: Choosing the Best Poodle for You.
Part II: Living Happily with Your Poodle.
Chapter 5: Preparing for Your Poodle's Homecoming.
Chapter 6: Welcoming Your Poodle Home.
Chapter 7: Providing Your Poodle with a Nutritious Diet.
Chapter 8: Keeping Your Poodle Clean and Attractive.
Part III: Training and Having Fun with Your Poodle Pal.
Chapter 9: Housetraining Made Easy.
Chapter 10: Instilling Good Manners in Your Poodle.
Chapter 11: Socializing Your Poodle.
Chapter 12: Hitting the Road with Your Poodle.
Chapter 13: Showing Off and Enjoying Your Poodle's Talents.
Part IV: Maintaining Your Poodle's Health.
Chapter 14: Taking Basic Care of Your Poodle's Health.
Chapter 15: Considering Common Poodle Conditions.
Chapter 16: Staying Prepared with First-Aid Basics.
Chapter 17: Easing Your Senior Poodle into the Golden Years.
Part V: The Part of Tens.
Chapter 18: Ten (or So) Great Sets of Poodle Resources.
Chapter 19: Ten Ways to Help Your Poodle if Disaster Strikes.
Index.