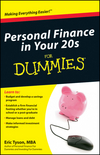 Personal Finance in Your 20s For Dummies
ISBN: 978-0-470-76905-8
Paperback
264 pages
January 2011
US $12.99

Add to Cart
Introduction.
Part I: Building Your Foundation.
Chapter 1: Your Financial Checkup.
Chapter 2: Making the Best Use of Bank Accounts.
Chapter 3: Budgeting and Saving.
Chapter 4: How to Spend Less and Save More.
Chapter 5: Using Loans and Paying Down Debts.
Part II: Grown-up Stuff.
Chapter 6: Everything Credit: Scores and Repor ts.
Chapter 7: Housing: Comparing Renting and Buying.
Chapter 8: Relationships and Money.
Part III: Earning More (And Keeping More of What You Earn).
Chapter 9: Making the Most of Your Career.
Chapter 10: Taxes: Reduce Them or Else!
Chapter 11: Successful Investing Principles.
Chapter 12: Portfolios for a Purpose.
Part IV: Insurance: You're Not as Invincible or Independent as You Think!
Chapter 13: The Lowdown on Health Insurance.
Chapter 14: Safeguarding Your Income.
Chapter 15: Home, Auto, Renters, and Other Insurance Policies.
Part V: Your Information Diet.
Chapter 16: Using Media Resources.
Chapter 17: Professionals You Hire.
Part VI: The Part of Tens.
Chapter 18: Ten Ways to Save on a Car.
Chapter 19: Ten Things to Value More Than Your Money.
Index.