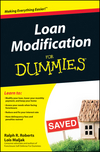 Loan Modification For Dummies
ISBN: 978-0-470-50199-3
Paperback
288 pages
August 2009
US $19.99

Add to Cart
Introduction.
Part I: Getting Up to Speed on Loan Modification.
Chapter 1: Keeping Your Home by Modifying Your Loan.
Chapter 2: Taking Stock of Your Situation.
Chapter 3: Evaluating Your Options.
Chapter 4: Deciding Whether to Team Up with a Pro or Fly Solo.
Part II: Kick-Starting the Process: Applying for a Loan Modification.
Chapter 5: First Things First: Contacting Your Lender.
Chapter 6: Gathering Facts, Figures, and Documentation.
Chapter 7: Knowing What to Ask For.
Chapter 8: Preparing and Submitting Your Application.
Chapter 9: Keeping the Process on Track and on Time.
Part III: Hammering Out the Details with Your Lender.
Chapter 10: Discussing Loan Modification Scenarios with Your Lender.
Chapter 11: Evaluating Your Lender's Initial Offer.
Chapter 12: Negotiating a Better Deal.
Part IV: Dealing with an Uncooperative Lender.
Chapter 13: Brushing Up on Your Legal Rights.
Chapter 14: Auditing Your Mortgage Loan.
Chapter 15: Applying Some Legal Pressure.
Part V: The Part of Tens.
Chapter 16: Ten Tips for Long-Term Success.
Chapter 17: Ten Common Loan Modification Myths.
Part VI: Appendixes.
Appendix A: Resources.
Appendix B: Glossary.
Index.