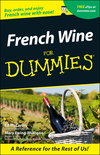 French Wine For Dummies
ISBN: 978-0-7645-5354-7
Paperback
318 pages
August 2001
US $14.99

Add to Cart
Introduction.

PART I: Why France Is the Home of Great Wines.

Chapter 1: France, Superstar.

Chapter 2: French Wine Today.

Chapter 3: Wine Laws and Labels.

PART II: France's High-Profile Wine Regions.

Chapter 4: Elite Red Wines of Bordeaux.

Chapter 5: Red Bordeaux on a Budget.

Chapter 6: White Bordeaux -- Dry or Sweet, and Delectable.

Chapter 7: Burgundy -- Queen of France.

Chapter 8: Beaujolais, The Fun Red.

Chapter 9: Robust Rhone Reds and Unique Whites.

PART III: France's Other Wine Regions.

Chapter 10: Champagne: The World's Greatest Sparkling Wine.

Chapter 11: Alsace: White Wine Wonderland.

Chapter 12: The Loire Valley's Hidden Gems.

Chapter 13: The South of France.

Chapter 14: Other French Wine Regions.

PART IV: The Part of Tens.

Chapter 15: Answers to Ten Common Questions about French Wines.

Chapter 16: Ten French Wine Myths Exposed.

PART V: Appendixes.

Appendix A: Pronunciation Guide to French Wine Terms.

Appendix B: Bordeaux and Burgundy Classifications.

Appendix C: French Wine Vintage Chart: 1979 to 1998.

Index.