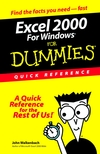 Excel 2000 for Windows For Dummies Quick Reference
ISBN: 978-0-7645-0447-1
Paperback
224 pages
May 1999
US $14.99

Add to Cart
Introduction: How to Use This Book.

PART I: Getting to Know Excel 2000.

PART II: Using Workbook Files and Worksheets.

PART III: Formatting, Outlining, and Printing Your Work.

PART IV: Entering and Editing Worksheet Data.

PART V: Using Formulas and Functions.

PART VI: Analyzing Spreadsheet Data.

PART VII: Charting, Drawing, and Web Publishing.

Glossary: Teehie Talk.

Index.

Book Registration Information.