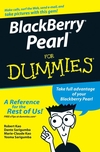 BlackBerry Pearl For Dummies
ISBN: 978-0-470-12893-0
Paperback
240 pages
February 2007
US $16.99

Add to Cart
Robert Kao
is one well-rounded professional. His ability to translate his technical knowledge and communicate in many languages with users of all types inevitably led him to develop BlackBerry applications for various financial firms in New York City –– that truly global city. A graduate of Columbia University –– with a Computer Engineering degree, of course –– he currently lives in
Somerset, New Jersey.
Dante Sarigumba is a long time user of BlackBerry, a gizmo enthusiast, and the coauthor of BlackBerry For Dummies. He is a co-host of the Mobile Computing Authority biweekly podcast. As a Software Developer, he works for a major investment bank in New York and lives in South Brunswick, New Jersey with his wife Rosemarie and two sons, Dean and Drew.
Marie-Claude Kao graduated with a degree in French to English translation from the University of Ottawa. She and her husband, Robert, have been long-time BlackBerry enthusiasts. In the past, Marie-Claude has worked for the Canadian government as a technical translator and currently works in New Brunswick, New Jersey.
Yosma Sarigumba is a full-time consultant specializing in distributed
applications and Web application development. She also loves to play with the latest tech gadgets. She utilizes her BlackBerry Pearl extensively to keep life with her two active sons as smooth sailing as possible.