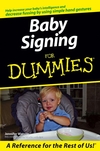 Baby Signing For Dummies
ISBN: 978-0-471-77386-3
Paperback
284 pages
October 2006
US $16.99

Add to Cart
Introduction.
Part I: Talking Hands.
Chapter 1: Getting Onboard with Baby Signing.
Chapter 2: Introducing Signs to Your Baby.
Chapter 3: Warming Up: Signing Boot Camp.
Part II: Ready, Set, Sign!
Chapter 4: Signing 101: Some Basic Signs.
Chapter 5: Eat, Baby, Eat! Mealtime Signs.
Chapter 6: Signs to Help Keep Baby Safe and Sound.
Chapter 7: Bath and Bed Signs.
Part III: Signs for Everyday Life.
Chapter 8: Signing Stuff That Baby Wears.
Chapter 9: Signing Animals from A to Z.
Chapter 10: Signing in the Great Outdoors.
Part IV: Now We're Talking.
Chapter 11: Signing Sentences.
Chapter 12: Overcoming Stumbling Blocks.
Chapter 13: How Long Do We Keep This Up?
Part V: The Part of Tens.
Chapter 14: Ten Reasons to Sign with Baby.
Chapter 15: Ten Signs Every Baby and Toddler Should Know.
Chapter 16: Ten (Or So) Songs to Sign.
Chapter 17: Ten (Or So) Signing Resources.
Part VI: Appendixes.
Appendix A: The ASL Alphabet.
Appendix B: ASL Numbers.
Appendix C: ASL Colors.
Index.