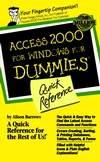 Access 2000 for Windows For Dummies Quick Reference
ISBN: 978-0-7645-0445-7
Paperback
240 pages
May 1999
US $14.99

Add to Cart
How to Use This Book.

PART I: Getting to Know Access 2000.

PART II: Creating and Navigating a Database.

PART III: Tables: A Home for Your Data.

PART IV: Queries: Getting Answers from Your Data.

PART V: Reporting Results.

PART VI: Forms and Data Access Pages for Displaying and Entering Data.

PART VII: Printing Your Work for the World to See.

PART VIII: Access 2000 Tips and Tricks.

Appendix: Techie Talk.

Index.

Book Registration Information.