How to Insert Pictures from a File in a PowerPoint 2007 Slide
How to Insert Pictures from a File in a PowerPoint 2007 Slide
If you already have an image file on your computer that you want to insert into a PowerPoint presentation, PowerPoint lets you insert the file. Follow these steps to insert Pictures from a file into your slides:
1

Move to the slide on which you want to splash a picture.

Which slide needs to be dolled up?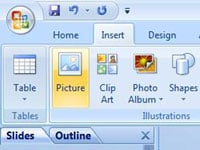 2

Open the Insert tab on the Ribbon and then click the Picture button in the Illustrations group.

It should be the first icon under the Illustrations set.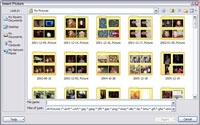 3

Find the picture file to use.

Click the icons at the left side of the box to browse for a picture to insert.