How to Fill a PowerPoint 2007 Shape with Color
How to Fill a PowerPoint 2007 Shape with Color
A PowerPoint shape or text box is transparent until you add a fill color. Besides colors, you can fill PowerPoint shape with a picture, a gradient, or a texture. To add fill to a PowerPoint shape, follow these steps: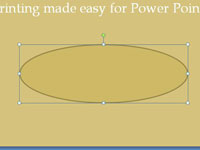 1

Click to select the object that you want to apply a fill to.

Clicking anywhere within an object should select it.