How to Create an Action Button on Your PowerPoint 2007 Slide
How to Create an Action Button on Your PowerPoint 2007 Slide
Placing an action button on a PowerPoint slide gives you a way to view the PowerPoint slides in any order, access sound and video clips, and more. To add a button to a PowerPoint slide, move to the slide on which you want to place a button and follow these steps: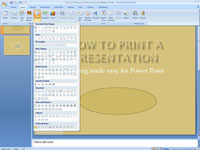 1

Open the Insert tab on the Ribbon and click the More button in the Shapes group.

The Shapes Gallery opens.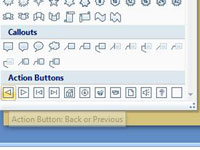 2

Click the button for the action button shape that you want to create.

The action buttons are found at the bottom of the Shapes gallery.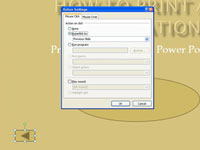 3

Draw the button on the slide.

Point to where you want the upper-left corner of the button. Then click and drag to where you want the lower-right corner of the button. When you release the mouse button, the Action Settings dialog box opens.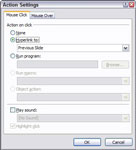 4

Choose the Action setting and click OK.

The default setting for the action button you choose is usually fine. For example, the action setting for a Forward or Next button is Hyperlink to Next Slide. If you want the slide to hyperlink to some other location, change the Hyperlink To setting. To change the action setting for a button right-click the button and choose the Action Settings command.

The Action Settings dialog box vanishes, and the button is created.