Free Resources
As any professional military commander will tell you, knowing your enemy is the first step in winning a battle. After all, how can you expect to pass the ASVAB (Armed Services Vocational Aptitude Battery) if you don't know what's on the test? Here are some test-taking tips and key info about ASVAB test formats to help you ace the test, get into the service of your choice, and qualify for your dream job. To help you develop your tactical strategy a list of For Dummies resources is provided to give more than the "basic training" you need to ace the ASVAB.
Here are some featured articles to get you started.
Breakdown of the ASVAB Subtests
Featured Resource
Practice ASVAB test questions and get your best score!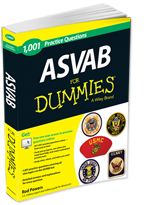 1,001 ASVAB Practice Questions For Dummies Book + Online Practice gives you extra (or real life) practice for the ASVAB with 1,001 practice questions on key concepts for all nine ASVAB subtests. Go online to:
practice additional problems presented in multiple-choice format.
assess your progress and see where you need more practice.
see detailed answer explanations for each question.
Whether you're looking to enter the military or are interested in raising your score to attain a new job, position, or advance in rank, 1,001 ASVAB Practice Questions For Dummies has you covered.
Most Recent