Why Should You Buy a Microsoft Surface?
Most computer manufacturers create Windows tablets as cheaply as possible. By coming up with the lowest price tag, they hope to undercut their competitors. Instead of taking this same road to the bottom, Microsoft created the Surface as a showpiece, designed to show off Windows 8 tablets at their finest.
To do that, Microsoft designed the Surface in-house with a large budget and engineering team—a luxury not available to most computer manufacturers.
Competitors cut costs by wrapping their tablets in cheap plastic. Microsoft's Surface, by contrast, comes sheathed in a magnesium alloy. This rugged but lightweight casing gives the Surface a solid feel.
The Surface includes a built-in kickstand. An optional attachable keyboard doubles as a cover when not in use.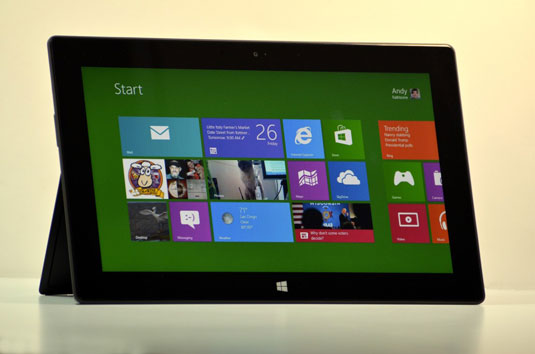 Why not just buy an iPad? Well, they're attractive tablets that excel at what they do, but they're limited. Without a USB port, you can't easily move files between an iPad and a desktop PC. Both Surface models, by contrast, include a USB port, making it easy to swap files through flash drives or even portable hard drives.
And when iPad owners need to work, they usually reach for their laptop. Surface owners simply just flip their keyboard into place, load the familiar Windows desktop, and head for the mainstays of Microsoft Office: Word, PowerPoint, Excel, and OneNote.
When you're ready to hit the road again, flip back the keyboard and run, taking all of your files with you:
Your Surface strips computing down to its essentials. Although it works without a keyboard, the optional keyboards add less than a half-pound of weight and doubles as a screen cover.

When you plug a monitor into your tablet's video port, you've created a two-monitor workstation. You can view your notes on your tablet, but compose your document using the second, larger monitor. Or, you can extend your Windows Desktop across both monitors, doubling its size.

Touchscreens make many tasks much easier and faster. It's easy to scroll through large documents with a flick of your finger, for example. Plus, touchscreens often seem more natural, especially when paging through digital books, maneuvering through maps, or resizing digital photos.
Microsoft's Surface introduces several unique features not found in other tablets:
Kickstand: Place a tablet on the desk, and its screen faces the ceiling, not you. To counter this, some tablets offer an expensive docking station that keeps your tablet at a convenient viewing angle. Although docks work well on a desk, they're difficult to carry around. To solve the problem, the Surface includes a built-in kickstand that lets your tablet sit upright like a laptop's screen.

Keyboard cover: Most tablets don't include a case or a keyboard. You can buy them as accessories, but they're two more things to carry around. The Surface, by contrast, offers a keyboard that doubles as a cover. When you're done working, flip up the keyboard, and it becomes a cover to protect the screen.

USB port/memory card slot: You'll find these on nearly every Windows tablet, but you won't find them on any iPad. Ask any iPad owner how they move information to and from their iPad. They all get an uncomfortable expression on their faces while explaining their workarounds.

Windows Desktop: Nearly everybody has grown fairly used to the Windows Desktop, a staple around offices for two decades. Both the Surface with Windows RT and the Surface with Windows 8 Pro include the Desktop, including Windows File Manager (formerly named Windows Explorer in Windows 7 and earlier versions of Windows). One caveat: You can't install traditional Desktop programs on the Surface with Windows RT.

Microsoft Office: The RT version of Surface includes a copy of Office Home and Student 2013. That gives you Word, Excel, PowerPoint and OneNote, ready to create your own documents or touch up those that arrive in e-mail.