Where are Windows Shutdown Options?
Choosing a shutdown option involves finding where that option dwells in Windows and that depends on whether you are using Windows 7, Vista, or XP. The location varies, but generally speaking, you need to look to the bottom of the Start button menu.
Windows 7 shutdown options
In Windows 7, the shutdown options are found in the lower right corner of the Start button menu. The most obvious option is Shut Down which turns off the computer. Okay: It shuts down the computer. The remaining shutdown options are available on the Shutdown menu.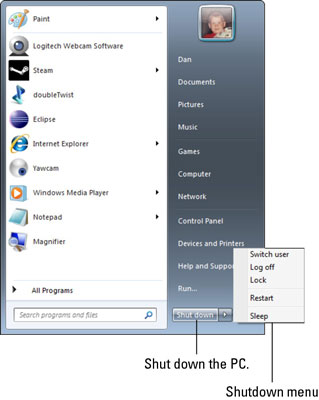 Windows Vista shutdown options
Windows Vista tucks its shutdown options in the same location as Windows 7, in the lower right corner of the Start button menu. Unlike in Windows 7, two special buttons are visible in addition to the Shutdown menu. Also, all shutdown options are displayed on the menu.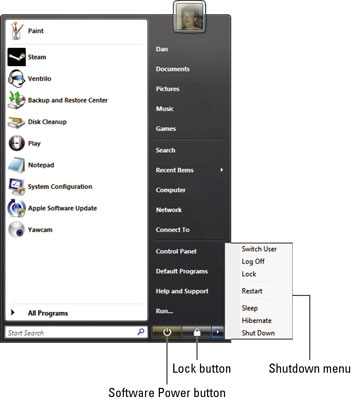 The software Power button can be assigned different functions, so its purpose isn't obvious. Clicking the button activates the functions Shutdown, Hibernate, or Sleep.
Next to the software Power button is the Lock button. Clicking that button does the same thing as choosing the Lock command on the Shutdown menu or pressing the Win+L key combination.
You may notice that the Hibernate command is missing from the Shutdown menu in Windows 7 or Windows Vista. If so, you've activated hybrid sleep. When hybrid sleep is on, the Hibernation option isn't available on the Shutdown menu.
Windows XP shutdown options
Windows XP sports two options at the bottom of the Start button menu: Log Off and Turn Off Computer. Neither button does what it claims; instead, another menu appears.
Choosing the Log Off options from the Windows XP Start menu displays the Log Off Windows options. Both options allow someone else to use the computer; Switch User suspends your session, and Log Off ends it.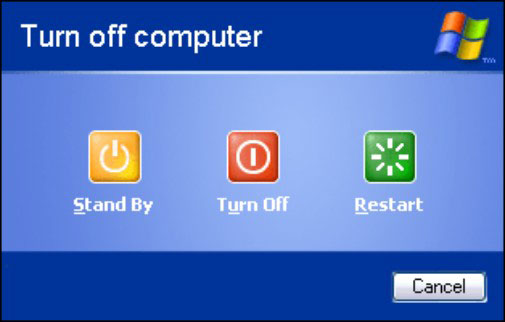 When you click the Turn Off Computer button, you see the Turn Off Computer window, which contains four options. The visible options are Stand By (to enter Sleep mode), Turn Off, and Restart. The fourth option is Hibernate. It becomes visible when you press the Shift key; the Stand By text is replaced by the word Hibernate. (Hibernation is available only when it has been turned on.)
The only option not available in either window is Lock. To lock a Windows XP computer, you press the Win+L key combo.
It's normal for the screen background to fade to monochrome when either Windows XP shutdown option menu is displayed.