What is the Windows Live Essentials Pack for Windows 7?
The Windows Live Essentials Pack is a group of applications that Microsoft created to go with Windows 7. The Windows Live Essentials Pack is available as a free download and includes four major applications from previous versions of Windows — Mail, Messenger, Photo Gallery, and Movie Maker — along with seven new applications.
The following list will give you the run down on the truly essential programs available in the Essentials pack.
Windows Live Photo Gallery: The new Photo Gallery runs rings around the photo handling capabilities native to Windows 7. If you do anything with pictures or graphics, it's worth your while to download and use Windows Live Photo Gallery to retrieve, tag, display, and manage your photos.

Windows Live Photo Gallery lets you retrieve, tag, display, and manage your photos — or any other kind of picture files.

Windows Live Photo Gallery works with Vista and XP, too, but you need Windows 7 to get the full effects of the Picture Library.

Windows Live Sync: When you install Windows Live Photo Gallery, you also receive a copy of this full-featured folder synchronizer. You can use this app to synchronize pictures across different PCs or folders with just a few clicks.

Windows Live Movie Maker: For anyone who ever plays with video clips — indeed, anybody who wants to make a slide show without using PowerPoint, this program is well worth the download. Although it's not as capable as commercial video editing programs, it's still easy to use, and it integrates well with Windows Live Photo Gallery.

Windows Live Movie Maker lets you edit and stitch together clips like a pro.

Windows Live Movie Maker works on Vista and Windows 7. It's a replacement and a major improvement over the notoriously buggy and wimpy Vista Movie Maker.

Windows Live Messenger is the latest incarnation in a long line of Microsoft instant messenger (IM) engines. Windows Live Messenger works with any version of Windows, and now with Yahoo! Messenger as well, so your Yahoo! friends can chat with you, and you with them.

Windows Live Messenger is now equipped with funny, rumbling icons; easy voice and video capabilities; group chats (complete with home pages and group calendars); mobile phone tie-ins; and contact-harvesting capabilities with Bebo, Facebook, Hi5, LinkedIn, and Tagged.

When you install Windows Live Messenger, something else appears on your Start menu — Windows Live Call. This feature lets Messenger act like Skype. In other words, you can use it to make a long distance phone call over the Internet or to someone's landline or mobile phone.

Windows Live Mail is the latest incarnation in a long line of free Microsoft mail programs that run on your computer. Windows Live Mail not only grabs your "regular" e-mail but can also grab mail from your Hotmail, Gmail, and AOL mail accounts.
Windows Live Essentials also includes six other components. These really aren't essentials and will only appeal to a few Windows 7 users. You can choose which of these applications you want to install: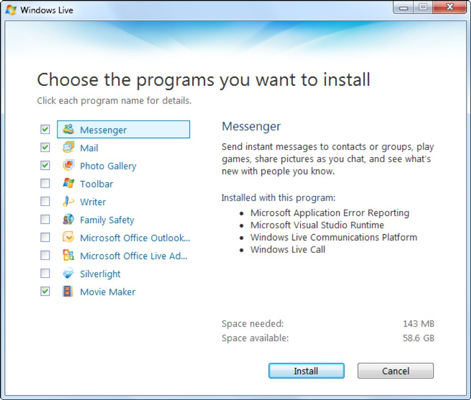 Windows Live Mail rates as a reasonably good, free mail program.
Windows Live Writer helps you write entries for your blog and post them, as long as you use one of the big-name services or products for your blog: Blogger, Live Journal, TypePad, Windows Live Spaces, WordPress, or (shudder!) the Microsoft SharePoint blog.

However, most blogging services, especially these big name services, already have decent editors. It's hard to imagine why you would want to add another program in the middle of things.

Windows Live Family Safety replaces the Family Safety features of Windows XP and Vista and the Family Safety component of Windows Live OneCare.

Windows Live Toolbar replaces the old MSN Search Toolbar. It allows you to use both Microsoft Live and Windows Live Search — as long as you're using Internet Explorer (IE).

Microsoft Office Outlook (MOO) Connector lets you download your Hotmail messages in Outlook 2003 and 2007. Great if you have Hotmail and Outlook 2003 or 2007.

Microsoft Office Live Add-In puts a new toolbar in Office XP, Office 2003, and Office 2007, which allows you to save Word, Excel, and PowerPoint documents directly to Microsoft Office Live Workspace.

Microsoft Silverlight is Microsoft's attempt to challenge Adobe Flash Player in the Web animation player market. If you already have Flash Player — and about 98% of all PCs do — then there's really no need for Silverlight.